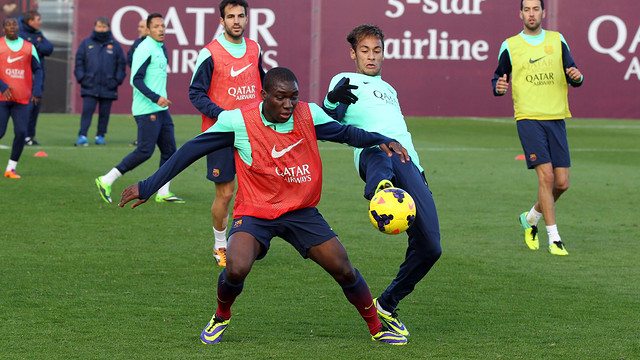 The two South Americans are the last players to rejoin the squad after the international break
Xavi Hernández and Jordi Alba exercised separately from the group
On Wednesday, it was the turn of Song, Sergio, Iniesta, Pedro, Bartra, Sergi Roberto and Mascherano to rejoin the squad in training. This Thursday morning saw the return of South American stars Neymar Jr and Alexis Sánchez. Meanwhile, Brazilian international Alves has picked up a muscle injury in his right leg. Alves will be out for between 7 and 10 days.
Dongou and Adama, with the group
The other talking point in the Ciutat Esportiva was Xavi Hernández, who exercised separately from the main group. Jordi Alba also worked out on his own while Tello followed a specific routine.
Dongou (Barça B) and Adama (Juvenil A) joined the seniors for today's session. Gerard Piqué and Cesc Fàbregas, who have still not been cleared by Club doctors, exercised with the group.