As Andres Iniesta touched down in Japan earlier this week, he embarked on a new challenge of bringing his footballing genius to east Asia.
While his chapter in the Barcelona book may have just called time, you'd be hard pressed to forget its contents.
Better known for his passing, dribbling and selflessness, this generation's ultimate fantasista had an eye for goal too. Scoring 57 times for La Bluagrana, here are some of Iniesta's most memorable.
1. 06/05/2009: Chelsea
The second most important goal in Andres Iniesta's professional career came in arguably the  most controversial Champions League game ever.
In trouble throughout, Barca's technical maestros were outplayed by the Blues for the majority of this game. Essien's early screamer put La Blaugrana on the back foot, as Chelsea repeatedly came within inches of ending the Barcelona dream.
Iniesta's 90th minute goal was Barca's first shot on target. Cue absolute scenes.
Denied two stonewall penalties and another two highly questionable ones, the Stamford Bridge crowd looked on in as state of disbelief and rage. If not for this strike, who knows what would've become of Guardiola's Barca? Instead, the number eight scored and they went on to defeat Manchester United 2-0 in a Rome finale. 
The 2008/09 side of Barcelona are still the only team to win six major trophies in one cycle.
2. 17/08/2011: Real Madrid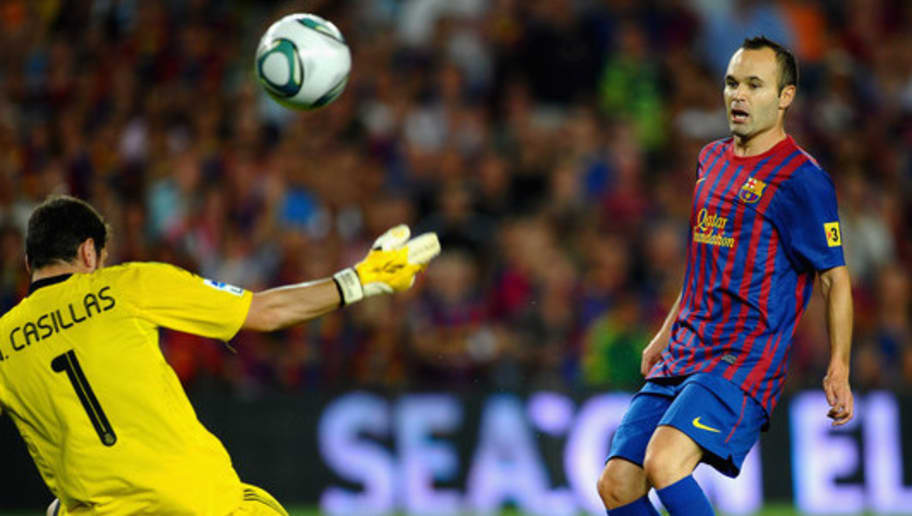 After a 2-2 draw at the Santiago Bernabeu, Spain's greatest rivals readied themselves to do battle in the second leg of the Spanish Super Cup.
A tie best remembered for Lionel Messi's continued genius, the little Argentine provided three goals and two assists in Barca's 5-4 aggregate victory. However, the first goal of this titanic Camp Nou clash was scored by Iniesta.
This goal was all about Messi's wizardry and Iniesta's intelligence. Dropping Fabio Coentrao with a shift, Messi then paced around Sami Kehdira on the halfway line and slid through a defence destroying assist. 
Caught watching Messi's magic — who can blame them — Sergio Ramos and Pepe were split by Iniesta's incisive run. Calling for an offside that never was, the Real Madrid back line had been burnt. 
Bearing down on his international teammate, Iniesta composed himself and then lofted a delicious chip shot over Iker Casillas' head. Majestic.
3. 19/10/2011: Viktoria Plzen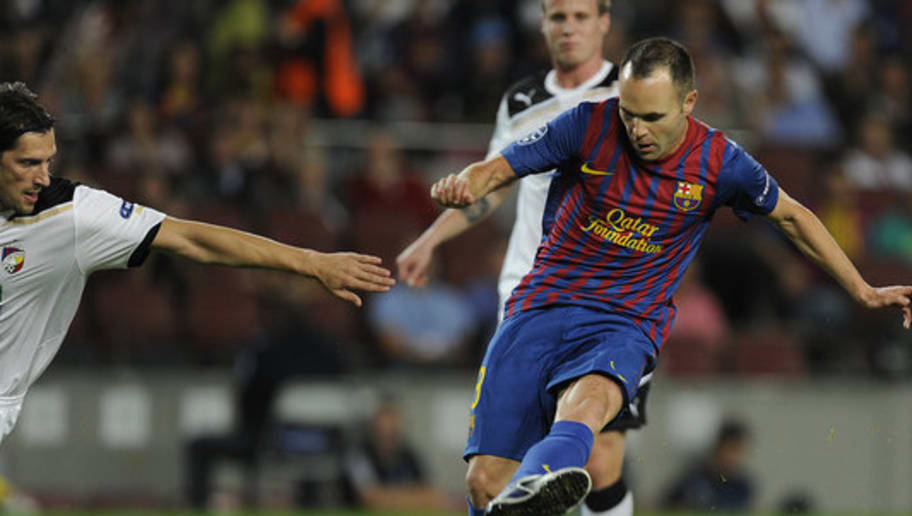 A goal sent from heaven, the mercurial Spaniard showed off all his balletic poise in one swift move. 
Two perfect give and goes between Iniesta and Messi opened up the Czech Republic side's defence like a hot knife through butter. Using his number 10 as a pivot, the Fuentealbilla man glided past two static white shirted onlookers.
Mesmerised by what they had seen, it was too late for the statuesque Plzen representatives to chase down Don Andres. One defender and the goalkeeper to beat, Iniesta flicked the ball up and around a dazed opponent with his right boot. 
As it dropped to his left, the Barcelona man hit it on the half volley back inside the near post, giving the keeper no time to react. Another piece of true genius from the modest maestro.
4. 23/10/2012: Celtic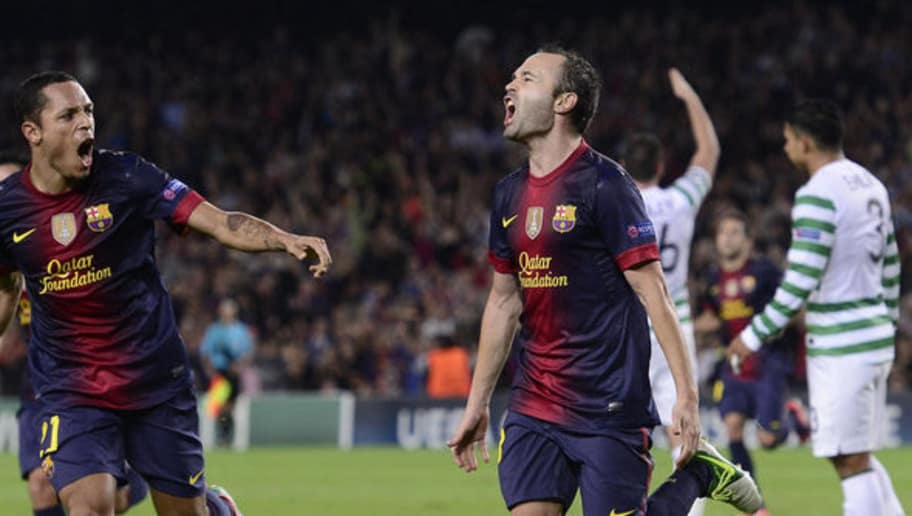 Down 1-0 to a resolute Celtic side at the Camp Nou, Barcelona were struggling to break down the Bhoys regimented banks of four. 
Then up stepped Iniesta, Xavi and Messi. With Celtic's midfield sitting deep on the edge of their own box, La Blaugrana decided to score a goal straight from the Playstation. 
Messi played to Iniesta, who sent the ball to Xavi. After a touch to set, the Barcelona captain knocked a ball back to Iniesta. Marked by three men, Andres atomised his body through a seemingly impossible space.
Collecting just right of the penalty spot, Iniesta's first touch created a position for a slide finish. Throwing his body, the number 8 managed to direct his shot into the front post. Craig Gordon, Victor Wanyama and Mikeal Lustig were left to argue who had made the mistake. 
In reality, there was nothing any of them could've done.
5. 16/03/2014: CA Osasuna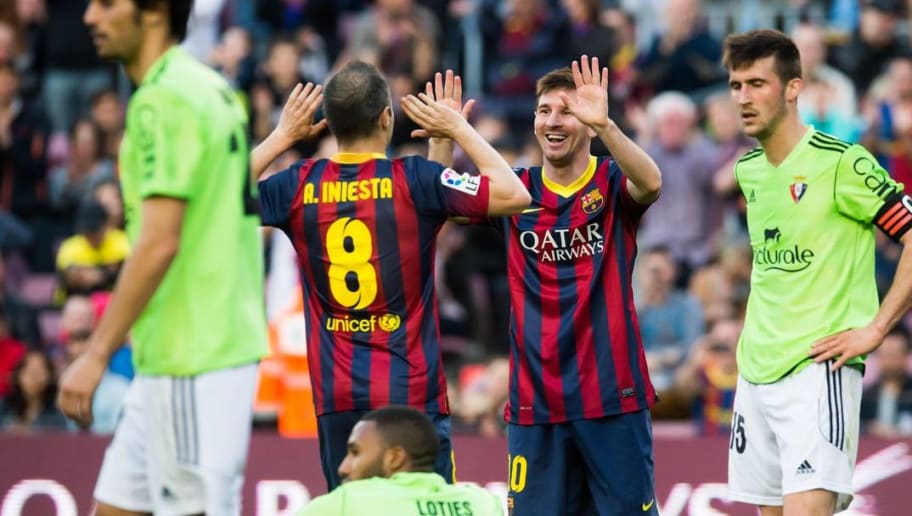 March of 2014 saw Barcelona smash Osasuna 7-0 in La Liga. It was yet another match in which Messi scored a hat-trick, however, Iniesta's goal stole the show.
Up by two goals to nil after 33 minutes, the Camp Nou club were cruising to victory. So much so, that Osasuna forgot how to mark their opposing numbers. With acres of space in the final third, Iniesta strolled up to the edge of the box.
With nobody deciding to close down the virtuoso, Andres let rip from 25 yards. His left footed shot arrowed across goal landing in the right sided netting. Even though goalkeeper Andres Fernandez attempted an athletic save, the ball was always heading into the back of the net.
6. 23/03/2014: Real Madrid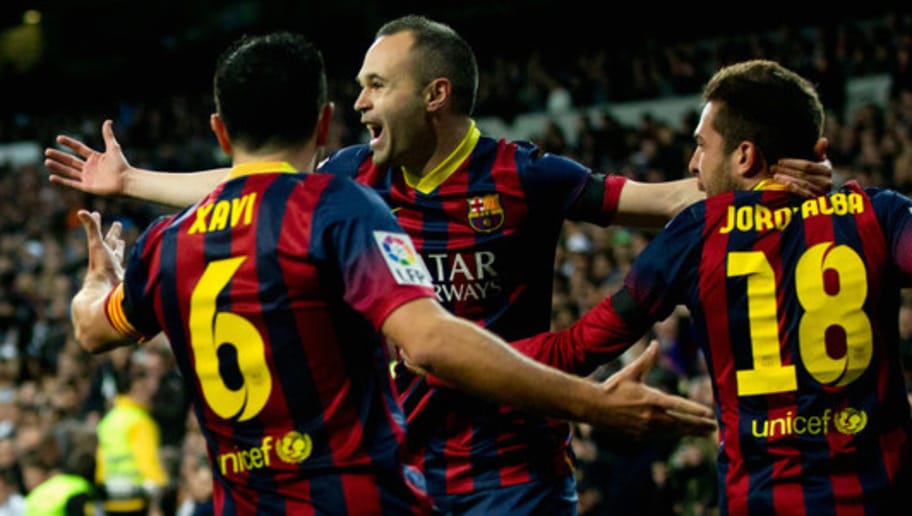 A week later, Iniesta was on the scoresheet again, this time in a high scoring El Clasico. Opening the proceedings in a 4-3 win, Iniesta launched a bullet past Diego Lopez in the Real net.
A match full of incident involved three penalties and a classic Sergio Ramos dismissal. It was a season in which Atletico Madrid would actually win the league, with La Rojiblancos upsetting the duopoly of Spain's top tier.
Back to Iniesta's goal, and it was again a link up between the Spaniard and his friend Leo Messi. Peeling from the marking of Dani Carvajal, Iniesta found himself wide on the left flank with space to roam. 
Messi dragged everybody in with his superhuman gravitational pull, and sent the ball into Andres' path. With touch to settle, Iniesta lashed a thunderbolt into the roof of the net. 
7. 21/11/15: Real Madrid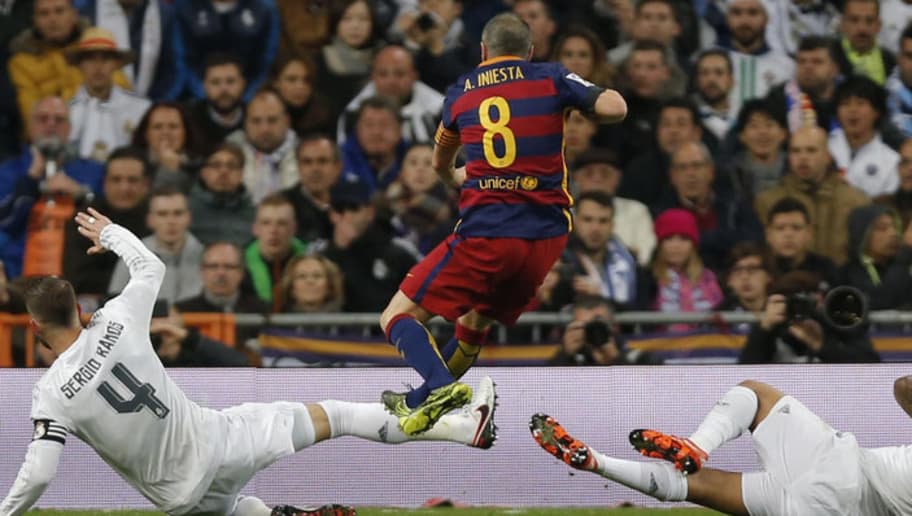 In a 4-0 thumping, Iniesta helped himself to another thunderous finish. A true example of how to play football, Barca embarrassed their most royal enemy. With Messi not even starting, Iniesta's genius was allowed to shine brighter than ever. 
A game in which Luis Suarez and Neymar were near unplayable, the Catalan kings flamed Los Blancos in the Bernabeu. The third goal of the game, Iniesta picked up the ball around 30 yards from goal.
Playing a pass to Neymar, the Brazilian trickster rolled an inch perfect backheel into the path of an onrushing Iniesta. Arriving like a speeding freight train, Andres hammered the ball from the edge of the box. 
Sergio Ramos and Marcelo weren't quick, smart or strong enough to stop the play, and Iniesta's walloping finish flew right into the top corner past a helpless Keylor Navas. 
8. 21/04/2018: Sevilla
Iniesta's 57th and final goal for Barcelona came in his last Copa Del Rey final against Sevilla. A game in which Barca cantered past their opponents, they were three goals to the good by half time.
Iniesta's was the fourth of five, and even though not his most spectacular goal, it'll be one that lives long in his memory. A fairy-tale ending, Iniesta and Messi combined once again in a classic one-two move.
Under the lights of Atleti's new Wanda Metropolitano ground, Iniesta burst through Sevilla's defence finding himself alone in the box. Messi's ball allowed the captain to round David Soria and tap into an empty net. 
With a Coutinho penalty adding the cherry on top of the icing on the cake, Iniesta's last Barca final had been perfect. A 5-0 masterclass showed the gap between both teams and was a fitting tribute to a club legend. 
Adios Don Andres, gracias por los recuerdos.
Let'