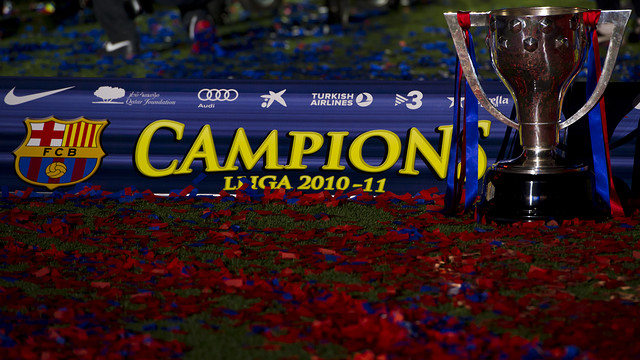 FC Barcelona have won their 22nd league title, their fourth in five years
Without counting the times Barça have won consecutive league titles, this is the first time that the Blaugrana have managed to win the league after losing it the year prior
FC Barcelona continue to be the dominant force in La Liga in the 21st century. Since the year 2000 the Blaugrana have won six league titles, followed by Madrid (5), Valencia (2) and Deportivo (1). Barça strengthened their hold on La Liga in the 2008/09 season, since then they've claimed four league titles.
The stats from Barça's four most recent La Liga titles
In the 2008/09 season, with Pep Guardiola and Tito Vilanova on the bench, the Blaugrana won the league with 87 points (27 victories, 6 draws and 5 defeats). The following year the league was won with 99 points (31 victories, 6 draws and 1 defeat). In the 2011/12 season, Barça claimed their third consecutive league title with 96 points (30 victories, 6 draws and 2 defeats). Barça regained control of La Liga after Madrid won the title last season. With four matches left on the schedule this year, Vilanova's men claimed La Liga with 88 points (28 victories, 4 draws and 2 defeats).
Barça reign once again
Barça have regained the league crown after Madrid's title winning run last year. In fact, this is the first time in Club history that Barça have won a league title – not counting when they won consecutive league titles – after losing it the year prior.
On three occasions Barça were made to wait at least two years before they managed to regain the league crown (from 1944/45 to 1947/48, from 1948/49 to1951/52, from 2005/06 to 2008/09).