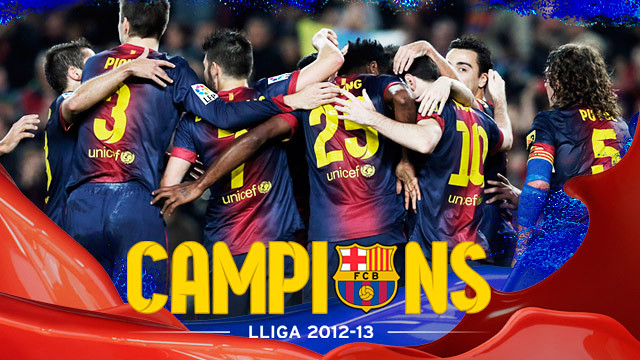 Barça secure their 22nd league title, their fourth in five years
The Blaugrana broke records on their way to the title, like setting the best ever start to a league campaign
'Aquest any, també!' (This year, too!). Barça are mathematically champions of La Liga. Madrid's draw against Málaga means that the Blaugrana have won the title without even playing. Barça will visit the Vicente Calderón on Sunday as La Liga champions.
This is the Club's 22nd league title and the fourth in five years. This year's victory highlight's Barça's dominance in Spanish football. The triumphant era started Pep Guardiola has been carried on by Tito Vilanova. The style deeply rooted in ball possession and offensive play has once again carried the Blaugrana to victory.
Tito and Abi's league
This isn't just another league title, the Club's 22nd Liga holds special meaning. The team had to overcome two extremely difficult setbacks. The illnesses of Tito Vilanova and Éric Abidal left the team without a head manager and one of the best defenders on the roster for part of the season. The players and coaching staff, led by Roura and Altimira, met the challenge with hard work and an unflinching commitment to the Club. Each and every one of them had to step up to secure the league title, a league that was always under Blaugrana control, from the first to the last week of the competition.
Impeccable trajectory
Just like in seasons past, Barça broke records that seemed to be out of reach. The most notable of which was the team's sensational first half of the season, when they won 55 of 57 possible points. It was the best ever start to a league campaign in Spanish football history, and it saw the Blaugrana 10 points clear at the top in December.
No brakes
With four games left on the schedule, the team still has a handful of challenges yet . So far they've won 88 points and if they win the rest of their games, they will equal the best ever point haul in La Liga. In addition, they've scored 105 goals, a record breaking tally for any team with four games left to play this season. Leo Messi has netted 46 goals and he's the front runner to win the Pichichi award. Last year he scored 50 goals. This is FC Barcelona's era, an era marked by a unique style of play. Long live the champions!