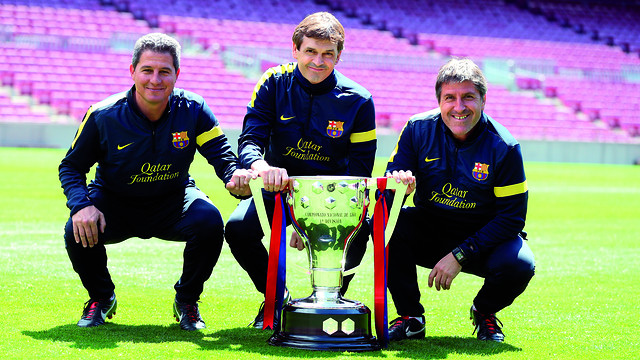 The three men have been close friends for years, and in BARÇA MAGAZINE looked back over a season in which FC B collected 100 points
The coaches reckon Barça could have got even more points and are still ruing the final minutes at Anoeta, Balaídos and San Mamés
Vilanova has spoken about how he kept up to date with things from New York, and admitted that "if I had been in Paris I'd have come to all the games"
Tito Vilanova, Jordi Roura and Aureli Altimira are frank and down-to-earth people who have known each other since they were teenagers. They have spent countless hours together since first meeting at La Masia and playing youth football at Barça, but had to go elsewhere to continue doing what they loved the most – playing football. Pep Guardiola then brought all three back to form part of his new project at the helm of the Barça first team.
In 2012, when Guardiola left, all three moved up the ladder, and helped to make 2012/13 arguably the finest Liga season in Barcelona history. Now, in a chat with BARÇA MAGAZINE, from which we publish extracts here, Vilanova, Roura and Altimira have spoken frankly about what has happened this year, including how they made it to 100 points and how they coped with the manager's serious illness.
The coaches are delighted to have gathered 100 points this season, but reckon that the really important achievement was the competitive spirit among the squad even though they were already well on course for the title in December. "We got caught short. The difficulty was not having anybody close behind us to pressure us for longer. When Madrid got 100 points, we got 91, and when we got 99, Madrid got 96. Once we had secured the title, the normal thing would have been for us to lose a match or two and not make it to 100 points. That goes to show just what a competitive spirit there is in this team", said Vilanova.
Roura added that "they say it's easy, but 100 points is extraordinary. I am sure we can win more leagues, but we may never get 100 points again. So we couldn't let the opportunity slip, no professional could let that chance pass them by." "I made a comparison the other day" said Tito "Barça have won leagues with 68 or 70 points, most of them with 80. 100 are a lot of points. It is very difficult to hold yourself and keep winning every year, that doesn't happen in other sports. It's hard for NBA champions to retain their title, and there must be a reason why no team has ever won the Champions League twice in a row".
Aureli Altimira commented that despite the huge margin and how they could have got even more than 100 points with a bit more luck (those last minute goals away to Celta and Bilbao!) "we never got the feeling that the league was already won". He kept a record of the team's progress in his office. "I marked all the wins in green, the draws in orange and the defeats in red. At the end of the season, I could see all the green and I knew I'd got things right, but I also record the difference between us and the second placed team, and in the second half of the season, it never got wider. Madrid never lost and we dropped the odd point here and there, but the team in second was still going strong and so you know that it's not all over yet".
"We need look no further than the day against Betis", remembers Roura. "If we lost that day, we could have been going to the Calderón with a lead of just two points. That was fictitious, because they'd played two more games, but that would have been the situation". The biggest danger was Madrid starting to believe they could do it. Tito Vilanova adds that "we knew that we were eleven points ahead, but that if we relaxed too much, and our lead got cut down, that they'd start believing, they'd get stronger, and we still had to go to Athletic Bilbao, to Espanyol, to Atlético Madrid…"
Perfect start
Vilanova and Roura agreed what mattered most in securing the club's 22nd Liga title. "A good start was important and also the major difficulty. Until then, the players had treated me as they would an assistant coach and I wasn't sure if they'd accept me as the head. It isn't the same to be the second-in-command as it is to be the boss. They are the same players, but they remember when you were just the assistant", said Vilanova.
Aureli didn't find the change of roles caused any problems for the players. "From the first team-talks we could see that they had accepted Tito as head coach. From the way they paid attention to his words, you could see that the players believed in him and were convinced that he was now in charge".
Tito commented that "it might have something to do with my character, when I was assistant my relationship with them wasn't all that intimate, there was always a bit of distance, and I thought that that was my way of doing things. But in the end that worked to my advantage."
The worst news of the year was the relapse of Tito's illness and the need for him to go back into surgery. "It all came as such a shock, we weren't expecting it … and decisions had to be made" explains Roura. Tito Vilanova continues the story. "When you get sick there is always the chance of a relapse, but in my case it didn't feel like it was going to happen. The operation had gone perfectly. The club had to make a very difficult decision and I'd have understood and supported them if the decision had been a different one and they had wanted to bring in a new coach".
But the men in charge never doubted. President Sandro Rosell and Andoni Zubizarreta insisted that Tito would continue in the job and Jordi Roura would take his place while he was away. "What the club decided could only happen here, because so many of us grew up here, not just the players but also the staff, and that's why these things happen. I am convinced that it would have been impossible at any other club", said Tito Vilanova.
Tito stayed in touch from a distance, even when he had to go to New York for treatment. He had to make decisions from the USA without having been able to be there to see everything that was happening. However, the communication remained fluid. Thanks to new technologies and telephone calls, Tito was in constant contact with his collaborators. "The decisions were made just the same as if Tito had been here, we were in direct contact", explained Roura.
Tito: "I could see the game better than them"
The coaches denied the stories about WhatsApp. "What we did" said Tito, "was to comment every quarter of an hour or twenty minutes on what we had seen by speaking directly on the phone (using a landline to avoid signal difficulties) and made decisions based on that, as if all three of us were together".
Tito revealed new details about the way he was able to manage the team from afar. "I was watching the team all the time and taking part in decisions, the only difference with respect to the previous year was the distance. Being in New York meant I wasn't here, but my life was normal, I went for walks, I went to watch basketball, ice hockey, and if I'd been in Paris I'd have come to all the matches. The season before the process was similar, I did chemo and came to training, and if I'd been here I'd have done the same. But the distance didn't stop me from watching the training sessions, they sent me the information on the Internet, and I sent my opinions back. I could watch the matches on television and that actually gave me a better view than they had".
Finally, Vilanova returned to Barcelona and the team won La Liga in record-breaking fashion. Looking back over the year all three agree that they have learned a lot. "The one who learned the most was me" says Roura, "because I was the new member of staff". Tito Vilanova was especially pleased that "we were always frank and always faced up to the players. None of them can say that Tito, Jordi and Aureli weren't honest with them. We know that if you lie to them just for one day, then all your credibility will be gone. That's what we did and that's what we'll continue to do", said Vilanova.