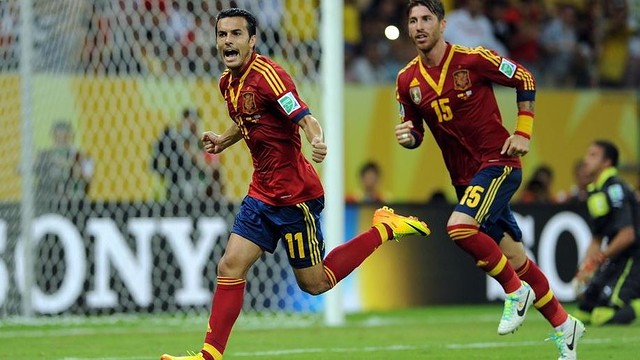 The Canary Islander has scored 11 goals in the last 12 months for the Spanish national side and is close to beating David Villa's record of 13 set in 2009
"If I get the record then fair enough, any player would like that" he said. "But the most important thing is to keep playing and contributing things to the team."

Pedro Rodríguez has goals in his blood. He has scored eleven times for Spain in the last year and is just three short of beating the record of 13 set by David Villa in 2009. With two to four Confederations Cup matches still to play, depending on whether Spain progress to the semis-finals, he has every chance of topping his Barça strike partner.
One hat-trick and two braces
His goalscoring streak began on September 7, 2012, with two goals in a friendly against Saudi Arabia. A month later he got a hat-trick in a World Cup qualifier against Belarus in Minsk. Then he got two more in the friendly in Panama to make it seven goals in three games.
The goals have continued to come in 2013. In February, Pedro was on target twice in a friendly with Uruguay. And then came the most important of all, the goal in Paris that put Spain back in control of their World Cup group. And Pedro then got the Confederations Cup off to a wonderful start with another goal against Uruguay.
"If I get the record then fair enough, any player would like that" he said after the game in Recife. "But the most important thing is to keep playing and contributing things to the team."
Another record
This is not the first time that Pedro Rodríguez has chased a goalscoring feat like this. In 2009 he became the first player to score in six different official competitions in the same year. Since joining the FC Barcelona first team he has scored 68 goals in 214 official matches.
Gran inicio de torneo del equipo. Gran partido ante un rival difícil como Uruguay. Contento con la victoria. Saludos a todos.

— Pedro Rodríguez (@_Pedro17_) June 17, 2013