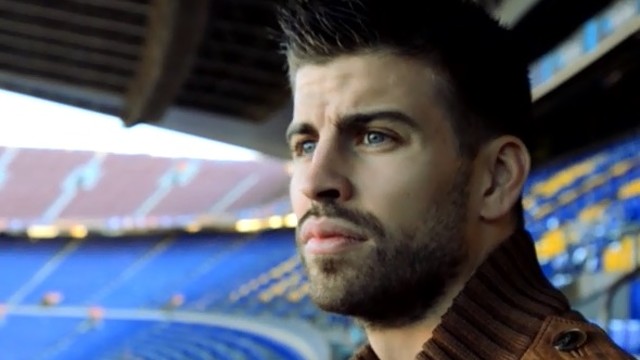 In an interview with North American TV network CNN, Gerard Piqué has spoken not just about his playing career, but also his private life
The FC Barcelona centre back described his lifelong association with the club, and even joked that he might one day become its president

CNN's report begins by mentioning that Gerard Piqué and his partner, Colombian pop sensation Shakira, have been included in Forbes' 2013 list of the world's most powerful pairings, having replaced 'Posh and Becks' as the world's top football-related couple.
"It's true that maybe sometimes we have to deal with some paparazzi but then I think we are now four years together – you have to accept it and deal with it and it's no problem" says Piqué in reference to the huge media interest in his private life. "We are like a normal family and we try to spend a lot of time with our son and before that, just to be a good couple — going to the cinema, going to have dinner."
Joys of fatherhood
One thing that has helped him to cope with the pressure was the birth of his son, Milan, one year ago. "It changed everything" says Pique. "You can see that he is new in this world and he doesn't have negative connections – he's all about laughing, smiling, being happy. It's so funny; I enjoy a lot playing with him."
"We lost 3-0 against Bayern Munich in the semifinals of the Champions League last season and I was really worried and really sad because it was a bad game and then I arrived home, saw Milan and everything changed … It's great because he's just 12 months now and it's unbelievable, he is starting to walk and we are enjoying this time a lot."
Childhood memories
Piqué, who was born in Barcelona in 1987, has been attached to Barça for as long as he can remember. "Since I was five or six, I came here with my family to watch every game every weekend" he explains, adding that "it means a lot to me now to be a first-team player because it was my dream since I was a kid."
He entered the FCB youth system as part of the golden generation that has brought more success to the club than ever before, and the fact that so many members of the team grew up together has been a huge factor behind those achievements. "We understand each other just with a look one to the other" he explains. "People like Lionel Messi or Cesc Fàbregas, it's been like half of my life playing with them since we were 12 or 13 so we know each other a lot … When we are on the pitch, we know what he will do, what Leo will do, because we've known each other for a long, long time."
Back home
However, at the age of 17, Piqué moved to Manchester United, only to return to his hometown club four years later. "I went there as a kid and I think I came back here in Barcelona as a man" he says.
It was never a secret that his biggest goal was to one day return to the club where he had spent his childhood, and he is very aware of what FC Barcelona means to his people. "We are really small and Barcelona is an instrument to show to the world that we are good at a lot of things" he told the North American network. "One thing is to play football really, really well so for the Catalonian people, the team is really important."
"Not only the soccer team because we have basketball, handball and a lot of sports. I think the Catalonian people really identify with Barcelona — the fans are really proud of the team and the club."
Future president?
He ended by answering some questions about his future, and was perhaps only half joking when he commented on what he sees his ultimate destination to be. "Now I'm 26 and I hope I can play here for I don't know six, seven, eight years more but you never know what will happen in the future" he said. "Maybe as a coach; I cannot see myself now being a coach but maybe as a president, you never know."