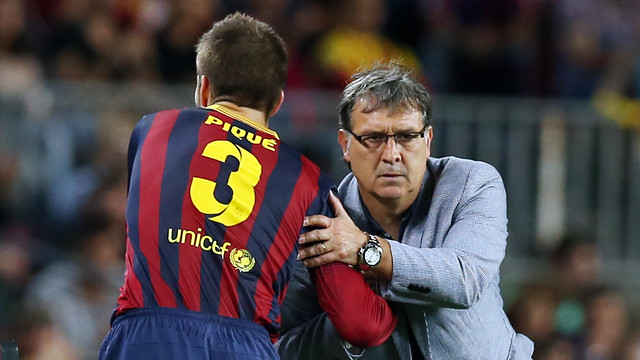 Gerardo Martino is resting three key players for the trip to Pamplona
The squad of 18 includes the recovered Mascherano, Puyol and Messi

Dani Alves, Gerard Piqué and Alexis Sánchez, who have all had particularly hectic international weeks, are all being rested by Gerardo Martino for Saturday's game in Pamplona (20.00, Canal +). With two defenders and the Chilean striker left behind, the squad of 18 does have room for all of Javier Mascherano, Carles Puyol and Leo Messi, who have all been declared fit enough for the trip to Navarra.
Recovered for a crucial period
Tata Martino is able to welcome back three essential players for an important stage of the season. Leo Messi, who was injured in Almeria in late September is back after missing the clashes with Celtic and Valladolid.
The defence has also been considerably strengthened. Javier Mascherano, who hasn't played since Real Sociedad, is back after three weeks. Carles Puyol has been out for much longer than that, no less than 220 days, and is picked for the first time since the Argentinian took over on the Barça bench.
There are some big games ahead for FC Barcelona. In the league they face Osasuna, Real Madrid, Celta and Espanyol, and they also have games home and away to AC Milan on the Champions League horizon.
Specific work for Piqué
In Friday's final training session before travelling to Navarra, Gerard Piqué worked out in isolation both in the gym and on the field. Isaac Cuenca was missing because he was taking the periodical fitness tests that several of his colleagues had already taken the week before.