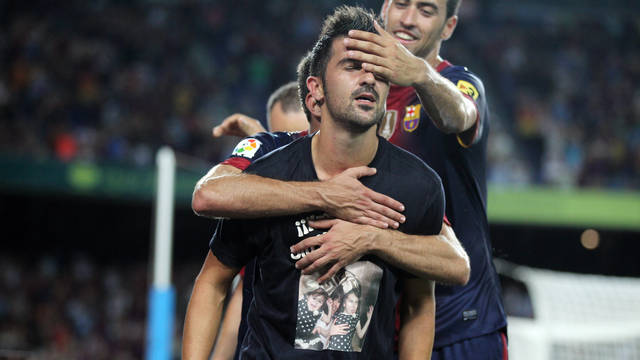 The Camp Nou gave the forward a standing ovation when he started warming up on the sidelines and he returned the supporters' affection with a goal
David Villa made a dream-like return to the Camp Nou this evening. 247 days after he broke his tibia, the Azulgrana forward took to the Camp Nou pitch against Real Sociedad in Barça's 2012/13 first La Liga match. The crowd's standing ovation was deafening when he came on and he was quick to return the supporters' acclaim: on 83 minutes he linked-up with Iniesta and scored, with his left foot, the definitive 5-1. He dedicated the goal to his family and his physio Emili Ricard, a man that was key to the forward's recovery.
After the match, the Spaniard talked about his performance: "I was really touched by how I was received by the crowd. Their support has been very important during these eight months and I hope I can return the favour with goals." He added, "when so many people help you it's hard to say thanks. I want to publicly thank everyone that helped me along the way, without them I wouldn't have been able to do it."
El Guaje also thanked "the managers for having confidence" in him and "the support from the players." Villa considers his performance against Real Sociedad as "another step towards a 100% recovery." In addition, he also noted that the goal "liberated him and made him content. I really wanted to enjoy this game."
30 unforgettable minutes
Villa's brilliant return to competitive play started on the 61st minute of the match, when he started warming up on the sideline (to the delight of the Camp Nou faithful). He had played a couple of minutes against Dinamo Bucharest a week before, and on the 74th minute he made his return official when Tito Vilanova subbed him in for Pedro.
El Guaje made a couple of brilliant plays moments after he took to the pitch. Playing on the left wing, he injected his team-mates with ambition and was rewarded with a goal.
During his 19 minutes on the pitch, the Spanish forward shot once on goal (which ended in a goal), completed 15 out of 17 attempted passes, won possession back once and was given a yellow card for taking his shirt off after he scored the definitive goal of the match.