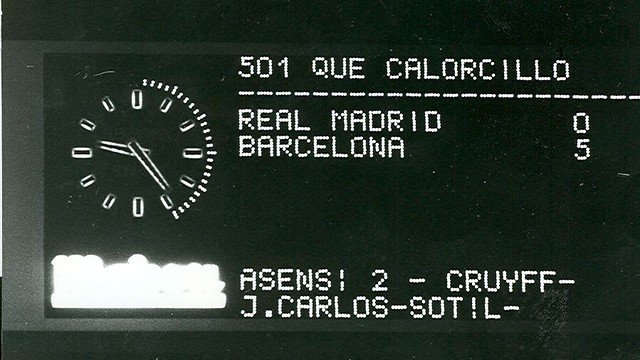 On Monday, February 17, four decades will have passed since that spectacular 0-5 win over Barça's eternal rival
The match, on the 22th matchday of the season, was won with goals by Asensi (2), Cruyff, Juan Carlos, and Sotil
MATCH STATS
Real Madrid, 0
FC Barcelona, 5
R. Madrid: Garcia Remón, Morgado, Benito, Zoco, Rubiñán, Pirri, Netzer, Velázquez, Aguilar (Santillana, minute 46), Amancio, Macanás
FC Barcelona: Mora, Rifé, Costas, De la Cruz, Torres, Juan Carlos, Rexach, Asensi, Cruyff, Sotil, Marcial (Tomé, minute 70)
Goals: 0-1, Asensi (min 30); 0-2, Cruyff (min 38); 0-3, Asensi (min 53); 0-4, Juan Carlos (min 63); 0-5, Sotil (min 69)
Referee: Orrantia
It was on matchday 22 of the League, when Barça, with Dutch star Johan Cruyff as the key player, were dominating the League, with a seven point advantage over second-placed Atletico Madrid. Real Madrid, despite the addition of German international Gunter Netzer, were not in great shape, and were in mid-table, 9 points adrift of Barça.
So, Rijkaard's team were probable favourites in this year's Classic, but even the most optimistic Barça fan wouldn't have foreseen what happened next.
Television as a witness

At that time a single television channel, TVE, regularly broadcast a Spanish League game, every Sunday at 20.00. That day, of course, the chosen game was Madrid v Barça. That was how the whole of Spain were able to watch a fabulous demonstration of Barça superiority, giving Real Madrid such a thrashing that one Madrid newspaper, the day after the game, published the headline: "Madrid, a dummy in the hands of Barça". Goals from Asensi (2), Cruyff, Juan Carlos and Sotil gave Barça a 0-5 win that would never be forgotten.
Joy amidst the tension
As was bound to happen, the streets of Barcelona exploded with joy at such a fabulous win which would be a prelude to the conquest of the League title after fourteen years of drought. Suffice it to say, however, that in those days the football euphoria gave just a little relief from the tense political situation that existed in the whole of Spain.