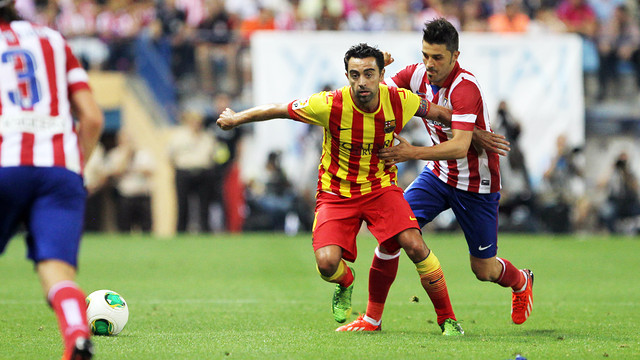 A look at the compared stats of the two league leaders ahead of their crunch meeting at the Vicente Calderón
Saturday's game at the Vicente Calderón brings together the most impressive outfits of the first 18 league games. Barça and Atlético Madrid both have 16 wins, 1 draw and 1 defeat. But a compared examination of their stats suggests that they've achieving those points in very different ways.
For example, Barça have been completing twice as many passes a game (614) as Atlético (357). Their styles are also very different, with Barcelona passing the ball out of defence as opposed to the more direct approach employed by the red-and-whites. Diego Pablo Simeone likes the route one method and plenty of physicality, reflected by the number of crosses into the area made by his team (465) compared to Barça (303) and the respective stats for fouls committed and received.
Here are the league stats for the teams currently first and second as we go into the match:
| | | |
| --- | --- | --- |
| | | |
| GOALS FOR | 47 | 53 |
| GOALS AT HOME | 33 | 31 |
| AWAY GOALS | 14 | 22 |
| HEADED GOALS | 8 | 3 |
| GOALS FROM FREE KICKS | 0 | 1 |
| GOALS BY STARTERS | 41 | 49 |
| GOALS BY SUBS | 4 | 3 |
| GOALS AGAINST | | |
| GOALS AGAINST AT HOME | 6 | 6 |
| AWAY GOALS AGAINST | 5 | 6 |
| SHOTS | 253 | 287 |
| SHOTS ON TARGET | 119 | 141 |
| SHOTS ONTO WOODWORK | 7 | 9 |
| SHOTS AGAINST | 157 | 159 |
| PASS ATTEMPTS | 8,453 | 12,726 |
| PASSES COMPLETED | 6,453 | 11,051 |
| LONG GOALS KICKS | 107 | 54 |
| SHORT GOAL KICKS | 35 | 58 |
| DRIBBLE ATTEMPTS | 546 | 610 |
| DRIBBLES COMPLETED | 134 | 227 |
| CROSSES | 465 | 303 |
| PENALTIES FOR | 7 | 6 |
| PENALTIES AGAINST | 0 | 2 |
| OFFSIDES FOR | 13 | 25 |
| OFFSIDES AGAINST | 56 | 47 |
| FOULS AGAINST | 267 | 300 |
| FOULS COMMITTED | 265 | 203 |
| YELLOW CARDS | 53 | 31 |
| RED CARDS | 1 | 0 |
| PLAYERS USED | 22 | 23 |
*Data provided by OptaSports