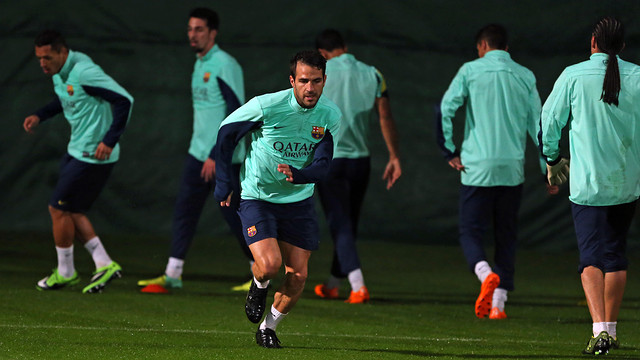 The midfielder is recovering from the injury he picked up in the team's most recent league match
U21 Spain defeat Albania
The U21 Spain team, with Sergi Gómez and Sergi Roberto in the starting line-up, defeated Albania. The Barça midfielder assisted Muniain for Spain's opener. The second goal was scored by Gerard Deulofeu.
The FC Barcelona players returned to training this rainy Monday afternoon after enjoying the weekend off. Cesc, who picked up a tendon sprain in the team's most recent league match, participated in the session. Jordi Alba and Gerard Piqué continued to work apart from the group.
Training session sans internationals
All the available players trained this afternoon at the Ciutat Esportiva, including Xavi Hernández, who, just like last Friday, worked on a specific training regiment.
The team will return to training on Tuesday morning to prepare for Saturday's match against Granada. Most of the internationals, including Alex Song and Sergi Roberto, will return to Barcelona on Wednesday.