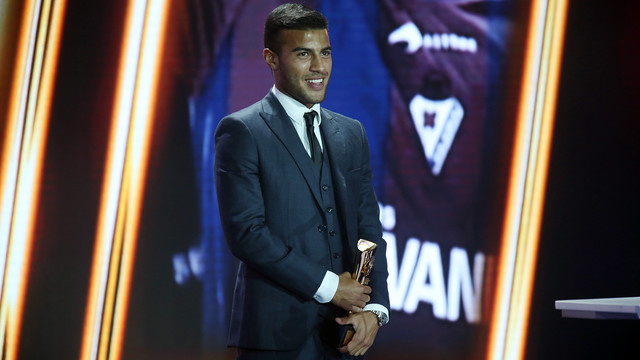 The FC Barcelona trio won awards for Best Attacking Midfielder, Fair Play and Best Breakthrough Player in the 2013/14 Liga season
There was also an award for Dongou of Barça B, who was named Best African Player in the second division
Marta Unzué amd Ruth present award
Two members of Barça's league title winning ladies team, Marta Unzué and Ruth García were also part of the FC Barcelona expedition. They and several other members of the Spanish national team were there to present the Best Striker in the Second Division award to Ayoze Pérez of Tenerife.
The Spanish Professional Football League (LFP) held its Gala Awards for the 2013/14 season on Monday evening in Madrid, and there was plenty in the way of prizes for FC Barcelona. Three first team members, Andrés Iniesta, Ivan Rakitic and Rafinha Alcántara won in their categories, as did Jean Marie Dongou of Barça B.
Top dogs
Andrés Iniesta picked up the prize for Best Attacking Midfielder ahead of fellow candidates Koke (Atlético Madrid) and his Barça colleague Ivan Rakitic (who was nominated for his form at Sevilla last season). Because he's receiving treatment for the soleus injury sustained in the Clasico against Real Madrid, he was unable to collect the trophy in person, and instead it was director of sport Andoni Zubizarreta who did the honours, saying that "we all know how good Andrés is, and he also adds a sense of proximity that means he'll always be respected by his team-mates. Anyone who likes football likes watching Iniesta … As you know, he is currently injured, but this prize will help him to recover more quickly."
Ivan Rakitic may have missed out in that category, but there was another prize waiting for him in the form of the Fair Play award. As the LFP website said "his play and professionalism have enchanted football supporters have set an example for everybody who loves this sport." Unfortunately, he too was unable to attend the ceremony because he's training for Wednesday night's Catalan Super Cup match with Espanyol. Carles Puyol went up to collect the award on the Croatian's behalf from former Valencia star Rubén Baraja.
Liga revelation
Rafinha Alcántara was in the house to be presented with his award for Best Breakthrough Player 2013/14 by actor Dani Rovira. The Barça player impressed in his season on loan from Barça to Celta Vigo, and in recognition of that, won the vote ahead of Jesé Rodriguez of Real Madrid and Saúl of Rayo Vallecano. "I thank Celta and my teammates for helping me so much" he told the audience. "I also want to thank my family and my brother Thiago Alcántara, who I'm sure will be strengthened by this … It is an honour to collect this fruit of my work. I am working hard every day and my colleagues at Barça have welcomed me nicely,"
And there was also an award for Jean Marie Dongou of Barça B, who was named Best African Player in last season's second division. "I want to thank my team-mates" said the Cameroonian. "And also Barça and all the people that help me every day to grow as a footballer."