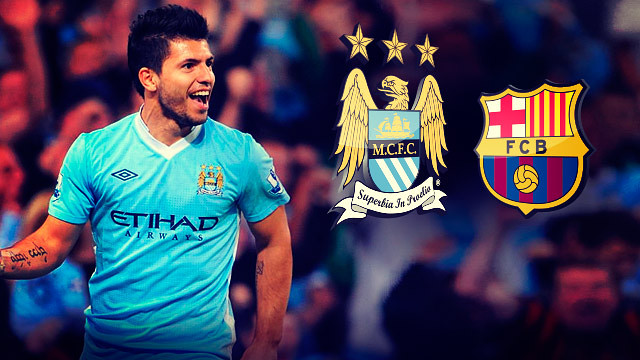 It is three years since the Argentinian last played Barça
FC Barcelona have won 7 of the 11 games in which he has featured
The eleven games
2006/07
FCB 1-1 ATM (LEAGUE)
ATM 0-6 FCB (LEAGUE)
2007/08
FCB 3-0 ATM (LEAGUE)
ATM 4-2 FCB (LEAGUE)
2008/09
FCB 6-1 ATM (LEAGUE)
FCB 2-1 ATM (CUP)
ATM 4-3 FCB (LEAGUE)
2009/10
FCB 5-2 ATM (LEAGUE)
ATM 2-1 FCB (LEAGUE)
2010/11
ATM 1-2 FCB (LEAGUE)
FCB 3-0 ATM (LEAGUE)
Sergio Agüero is no stranger to playing FC Barcelona. Although he missed the Champions League game at the Etihad Stadium through injury, the City striker played eleven league and cup games, and started nine, against the Catalans while he was at Atlético Madrid. Three years later, and Wednesday brings him another chance to test himself against the best team in the world.
Positive balance for Barça
In those eleven games, Agüero was only on the winning side on three occasions. The other games saw Barça beat Atlético seven times, and there was one draw, with an overall goal record of 34 for Barça and 16 for Atlético. Agüero scored exactly a quarter of his team's goals (4), all in the league.
The Argentinian played a particularly decisive role in two of those games. In 2006/07, he scored his side's only goal in a game that ended all square. And in 2008/09, his second goal of the night was the one that sealed a famous 4-3 win for the mattress-makers with just three minutes left to play. Agüero's other goal came in Atlético's best result against FCB with him in the side, a 4-2 win in the 2007/08 season, his goal, the fourth, coming when the three points were already as good as secured.
Camp Nou, hostile territory
Agüero has played six games at the Camp Nou and not won once. The best he managed with Atlético was a 1-1 draw in 2006/07, the night of what, until now, is the only goal he has ever scored in the FC Barcelona stadium.