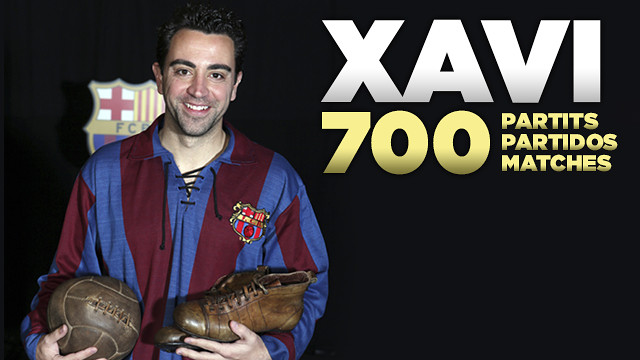 The Catalan midfielder, who is about to turn 34, has played a total of 700 official matches in the Blaugrana strip
The shirt will go to the Museum
Xavi Hernández will donate the shirt he played in this evening to the FC Barcelona Museum.
Xavi Hernández's legend continues to grow match after match. This Thursday at the Coliseum Alfonso Pérez he wrote another page in FC Barcelona history as he featured in his 700th official match with the first team. The midfielder broke Migueli's record of matches played for Barça (549) in 2011.
15 years have passed since Louis Van Gaal gave Xavi, who was 18 years old at the time, his first team debut. It was on August 18 of 1998, in the Spanish Super Cup match against Mallorca; Xavi also scored a goal in that game. He's been on FC Barcelona's roster for 16 years, and you could say that he's seen it all. He's been managed by nine different coaches (Van Gaal, Serra Ferrer, Rexach, Toño de la Cruz, Antic, Rijkaard, Guardiola, Vilanova and Tata Martino) and he's played a total of 54,726 minutes in the Blaugrana colours.
Xavi averages 43.75 games per season with Barça; he made the most appearances for the team in the 2006/07, 2007/08 and 2008/09 seasons, with a total of 54. He only participated in 22 games in the 2005/06 season due to knee injury.
The competition Xavi has featured the most in is the Liga, with 459 appearances. He's played 143 Champions League games, 63 Copa del Rey games, 14 Spanish Super Cup matches, 5 Club World Cup games and 3 European Super Cup games.

Collector of titles
Xavi is not only the player who has played the most games for Barça but he's also the player who has won the most titles. In total he's won 22 titles: 7 Ligas, 3 Champions Leagues, 2 Copas del Rey, 6 Spanish Super Cups, 2 European Super Cups and 2 Club World Cups).