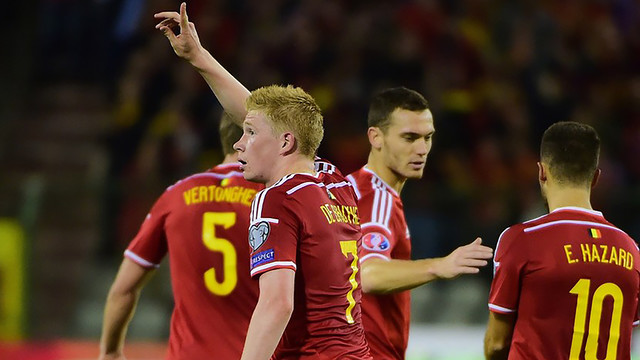 The Barça defender returns to the national side after an absence of 14 months and helps his side to an important win in qualification for Euro 2016
The Belgian is the only victorious blaugrana with Arda Turan's Turkey and Rakitic's Croatia drawing

Thomas Vermaelen's excellent start to the season at Barça has been echoed with his form for his national side. After an absence of 14 months, the defender not only returned to the Belgian national squad but also started the match against Bosnia and Herzegovina.
Roma striker Edin Dzeko put Bosnia ahead after a quarter of an hour but goals from Felliani, De Bruyne and Hazard gave Belgium a deserved 3-1 win with Vermaelen playing all 90 minute in the encounter. With the win, Belgium remain three points behind leaders Wales in Group B. Vermaelen was not the only blaugrana in action in the fixtures for qualification for Euro 2016.
Assist for Turkey but only draw for Turkey
The summer signing played his first official game since joining the blaugranes, Turan captained a Turkey side who were up against Latvia in their seventh game of the qualifying stages. Inan's goal with an assist from the blaugrana 13 minutes from time appeared to have given the Turks a 2-1 win but an injury time equaliser from Sabala gave the Baltic team a share of the points.
Turkey missed the chance to make the most of Holland's defeat against Iceland in Group A but they are now only a point off third place in the standings.
Draw for Rakitic
Earlier in the evening Azerbaijan took on Ivan Rakitic's Croatia side. The game ended goalless despite the best efforts of the Balkans who are now coached by former Barça player Robert Prosinecki. Rakitic played all 90 minutes and came close to opening the scoring with an excellent free kick from the just outside the box. With the point Croatia remain top of Group H, although now they are joined on 15 points by Italy following the azzurri's 1-0 win over Malta.