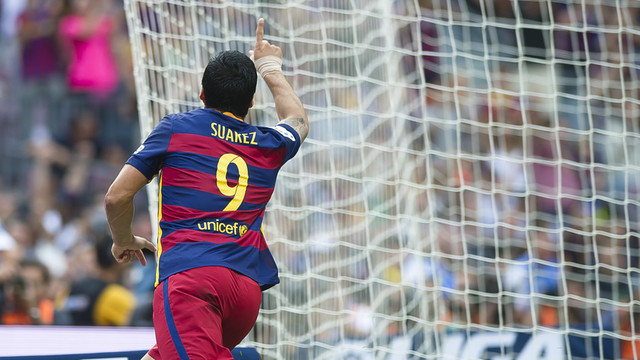 League action returns to Camp Nou after the recent international break with the visit of Paco Jémez's always entertaining side and a victory could see the blaugranes return to the top of the table in La Liga
The league is back with the visit of Rayo Vallecano to Camp Nou for a game which kicks off at 8.30pm CET on Saturday. The international break for World Cup 2018 and Euro2016 qualifiers is now behind us as Luis Enrique's team look to keep pace at the top of the table against a visiting side who are in need of points after an inconsistent start to the campaign.
Team news
As always during breaks in the league programme for international matches, Luis Enrique's preparations for the return to action against Rayo has been hampered by the absence of key players in training. It was only on Thursday and Friday did the Barça coach have all his available squad members back under his orders following several players participation in important qualifiers for their respective national sides. The blaugrana boss will name his final squad for the Rayo game on the morning of the match and he will still have to make do without the services of the injured Leo Messi, Andrés Iniesta and Rafinha. The good news is that there could be a return for Thomas Vermaelen after a month out with a calf strain.
Rayo boss Paco Jémez named his squad for the trip to Barcelona following the squad's final training session on Friday. The team from Vallecas will be without the suspended centre defender Antonio Amaya. Cissé who has flu and the injured former Valencia winger Pablo Hernández. In the squad, however, are former Barça player Roberto Trashorras and new summer signings Javi Guerra and Patrick Ebert.
Coaches' viewpoint
Barça coach Luis Enrique gave his view of Saturday's game in the traditional pre-match press conference on Friday. The Asturian is only too aware of the dangers posed by Saturday's visitors at Camp Nou: "Rayo Vallecano don't let you have the ball easily and they make you very uncomfortable. If we aren't sharp, they can take possession and control the ball." Asked about the continued absence of Leo Messi on the 11th anniversary of his league debut for the blaugranes, Luis Enrique made it clear that the Argentine's return should not be rushed: "The key is not to get him back for one game or another. The key is that he recovers well."
Rayo boss Paco Jémez also appeared before the press on Friday, making it clear that Barça are a team who are a model for his team: "I think we have a lot to be jealous of in reference to Barça. They are a very good side who have been doing things the right way for many years now. They don't need to be jealous of us. We try to do things the right way and we have a similar idea about the way the game is played."
Form guide
A return to winning ways is the goal for Barça at home to Rayo following their second league defeat of the season at Sevilla in their last game before the recent international break. The performance that day was a good one but bad luck and Sevilla's ability to take the few chances that came their way handed the blaugranes a 2-1 reverse. Nevertheless, a win at Camp Nou where they have not dropped a point so far this season against Paco Jémez's team could see them return to top spot in La Liga as they are currently in fourth place in the table, just a point behind leaders Villarreal.
Rayo have had a characteristically sluggish start to the league season with Paco Jémez's side currently in 15th place in the table, just a point above the relegation zone. The team from Vallecas have lost their last two league games, away at Sevilla and home Betis, but of their two wins this season, one did come on the road, Javi Guerra's strike giving them a 1-0 win at Las Palmas.
History
Since Rayo's return to the top flight in 2011, they have lost all four league games at Camp Nou, conceding 19 times and scoring just twice in the process. In last season's fixture they went down to a 6-1 defeat, Leo Messi scoring a hat trick, Luis Suárez a brace and Gerard Piqué also finding the net. Saturday's visitors have only ever won once at Barça in the league and that came back in the season 1999/2000 when they left Camp Nou with a 2-0 victory
Coverage
No matter where you are in the world we have you covered. And remember, you can enjoy live commentary in English on Radio Barça. The link will appear at fcbarcelona.com just before kick-off. Twitter users can follow @FCBarcelona for a live feed of all the action.
TICKETS FOR BARÇA V RAYO