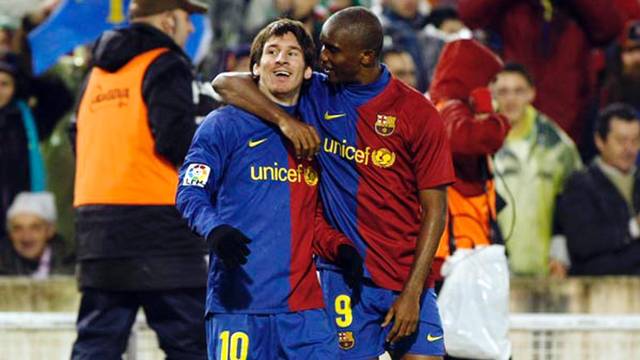 Since 2008, Leo Messi can't stop scoring goals on his visits to Racing Santander, including the Club's historic 5,000th league goal
This Sunday, Barça go to Santander with only one result on their minds – a win.  Ever since Guardiola took over as first team manager, Barça have won on all their visits to Racing.  Messi has been a key element, scoring five times in just three matches.  In the treble-winning 2008-09 season, Barça found themselves one down after a goalless first half, thanks to a Zigic penalty. Guardiola reacted immediately by bringing on Messi for Busquets and the Argentine took just six minutes to equalise with a precise strike from inside the goal area.
Goal nº 5,000 in the league
Barça dominated possession and pushed hard for all three points with their trademark passing game.  Finally, in the 80th minute Messi chested down the ball inside the Racing penalty area, skipped past his marker and tucked the ball away with a right foot shot from the edge of the goal area, beyond the reach of Racing goalkeeper Toño.  Messi's goal handed Barça the win but will go down in the Club's history as Barça's 5,000th league goal.
Always influential
Last season, Barça kicked off their league campaign with a visit to El Sardinero. Messi needed just three minutes to put Barça ahead with a superb chip over the head of Toño. Barça never lost this early advantage and the match ended 0-3.  The following season (2009-2010), Swedish striker Ibrahimovic got the opening goal and Messi added a second three minutes later.  At halftime, Barça led 0-3, but Messi added a fourth, his second, and the match finally ended 1-4.