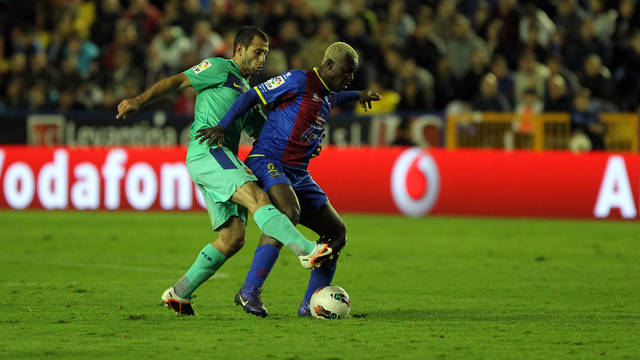 With the Spanish League season set to kick off this weekend, we look at how Barça's rivals have been working in this summer's transfer market and their prospects for the new campaign.
Real Madrid:
Last year's title winners are bound to be challenging again, though Jose Mourinho has, at the time of writing, not been at all active in the summer transfer window, releasing Gago – to Valencia, Pedro León – to Getafe and Alintop– to Galatasaray, whilst poised to make a move for a big-name player before the transfer window closes. Other players may also be on their way out of the Bernabéu, but expect pretty much the same core group that was so successful last season.
Valencia:
Ex- Barça player Mauricio Pellegrino was appointed Valencia manager at the end of last season, taking over from Unai Emery. The loss of Jordi Alba will be a big blow to the team, but they have confirmed the signing of Canales and Gago from Madrid and the exciting Portuguese international full back Joao Pereira from Sporting, as well as the Mexican midfielder Andrés Guardado from Deportivo and the Spanish Under 21 player J. Viera from Las Palmas. It's a tough start for Valencia with visits to both Barça and Madrid in their first three games, but expect them to again be amongst the front runners.
 Málaga:
After the euphoria of last May's qualification for the qualifying rounds of the Champions League for the first time in the Club's history, the hangover kicked in over the summer, with enormous debts meaning the team's biggest star – Santi Cazorla  – had to be sold to Arsenal. With Ruud van Nistelrooy retiring and the complicated financial situation the club find themselves in could mean that other big names may have to be sold off, with no cash looking likely for new signings, this could be a torrid season for Pellegrini's side, who need to beat Panathanaikos in the qualifying round to ensure the Champions League windfall the club needs.
Atlético Madrid:
The Europa League winners, who'll face Chelsea at the end of the month in the European Super Cup, have let go eight players – including Fran Merida to Hercules – whilst signing the experienced ex-Galatasaray, Inter Milan and Newcastle playmaker Emre from Fenerbahce and Argentinean defender Cata Diaz from Getafe. Perhaps most interestingly , the Uruguayan winger "Cebolla" Rodriguez  has been signed from Porto, where he enjoyed a great understanding with Falcao. Simeone showed what he was capable of with this team in the second half of last season and this year they will be expecting to kick on and pose a challenge to the big two.
Levante:
Last year's historic sixth place and the team's debut in Europe this season were built on experience and clever, if very cheap, signings and with Del Horno, Farinos and Xavi Venta amongst the eight players who've left in the summer manager Juan Ignacio has picked up David Navarro and Michel from Valencia, as well as last season's loan striker Kone from Sevilla and six other close season signings for what could be a campaign that stretches his limited resources.