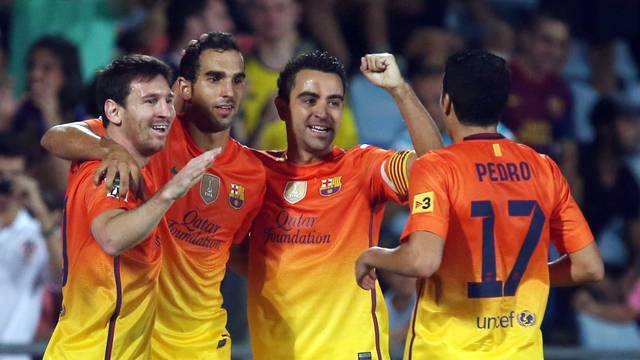 FC Barcelona has made a great start to the league season with two wins away to Osasuna and Getafe, stadiums where the team lost last year
And a win away to Getafe is a lucky omen; a victory there has always been followed by Barça taking the league title
Messi has already broken his own goal scoring record for a calendar year with 61 goals so far in 2012
Here are some of the positive facts thrown up by Barça's 1-4 victory over Getafe:
Barça has already won in both of the stadiums where the team lost last year (1-2 in Pamplona and 1-4 in Getafe). Last season Barça lost these matches 3-2 and 1-0, respectively.
•  So Barça has already come out on top in two of the three league matches lost last season. The third was the game against Real Madrid in the Camp Nou. Barça can make it three out of three when the two sides meet on 7th October.
•  Barça has always gone on to lift the league title after winning away to Getafe.
•  The starting line-up in the Coliseum Alfonso Perez featured no fewer than 10 players brought up through the Club's youth academy. The odd-man-out was Adriano.
•  The final score of 1-4 was a fair reflection of the opportunities enjoyed by both sides. Getafe had 6 shots compared to Barça's 15.
•  Barça's clear dominance of the game is also reflected in the stats for possession (67%) and passes completed (248 for Getafe against 619 for Barça).
•  With Messi starting the match on the subs bench, Valdes is now the only player in the squad to have played every minute of every match so far.
•  Piqué moves ahead of Messi into second place in the same ranking of minutes played with 492 compared to Messi's 486.
•  As of 16th September Messi has already surpassed his personal best of 60 goals in a calendar year, which he established in 2011. His provisional tally for 2012 now stands at 61.
•  Montoya and Thiago made their first appearances of the season in the starting line-up. For Thiago it was also his first game after recovering from injury.
•  On Saturday, Adriano played his 200th game in the Spanish league. And just as he did against Valencia before the international break, he scored the opening goal of the match, his sixth in 75 games for Barça.