Bojan Krkic had to leave for the umpteenth time to strengthen their commitment to the Barcelona. The young Spanish striker said he wants to succeed in the Catalan side, even when such potential is not yet in the first team.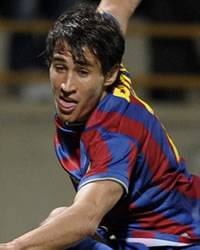 "I do not know that I will do next week. In football goes around and I am very happy at Barcelona. Just keep working and I am concerned here to prove that I can follow," explained the end-to-Wave FM.
Bojan was related to the English club Arsenal in recent weeks, which had also been a huge challenge to work with Arsene Wenger.
"It'sa great recognition, but Barcelona is the club has given me everything and I'm happy here. It is true that you learn by playing, but in Barcelona you can also learn a lot by playing minimally," he added.