Barcelona president Joan Laporta is being investigated for suspected bribery by Spanish prosecutors.
He is one of seven people who are being investigated over payments of £6.3m (€7.3m) made by Barcelona to former senior referee Jose Maria Enriquez Negreira.
Judge Joaquin Aguirre Lopez is investigating:
Joan Laporta (president 2003-10 and 2021- present)

Josep Maria Bartomeu (president 2014-20)

Sandro Rosell (president 2010-14)

Oscar Grau (former club executive)

Albert Soler (former club executive)

Jose Maria Enriquez Negreira (former referee and vice-president of Spain's referees' committee)

Javier Enriquez Romero (Negreira's son)
Barcelona and all those being investigated deny any wrongdoing.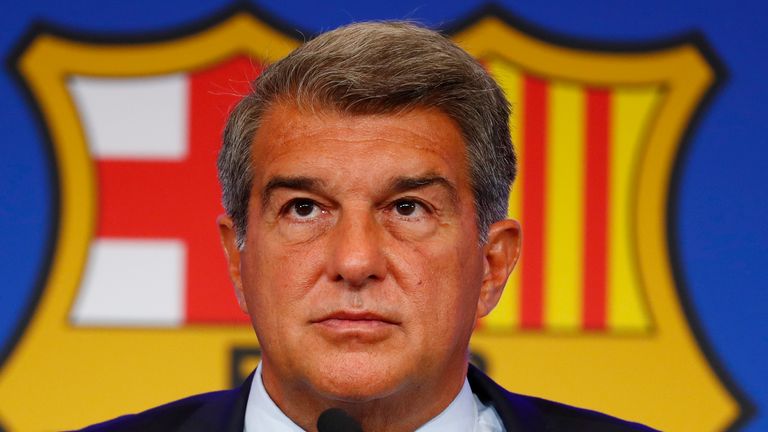 Prosecutors are investigating payments made between 2001 and 2018 to Negreira and his company Dasnil 95.
Negreira is a former referee and was vice-president of Spain's referees' committee between 1994 and 2018.
Barcelona are facing charges of corruption, breach of trust and false accounting.
They deny any wrongdoing and say the payments were for consulting work including refereeing reports.
In March, UEFA appointed ethics and disciplinary investigators to look into the case.
Barcelona were allowed to play in the Champions League this season but UEFA said in July "a future decision on admission/exclusion from UEFA club competitions is reserved".
Barcelona won nine Spanish titles between 2001 and 2018.
'Prosecutors believe Barca were getting benefit from referee payments'
Sky Sports News' chief reporter Kaveh Solhekol:
"Joan Laporta is one of the most powerful men in world football. He's the president of one of the biggest clubs in world football, Barcelona, but [on Wednesday] he was informed by a Spanish judge that he's been placed under formal investigation for suspected bribery.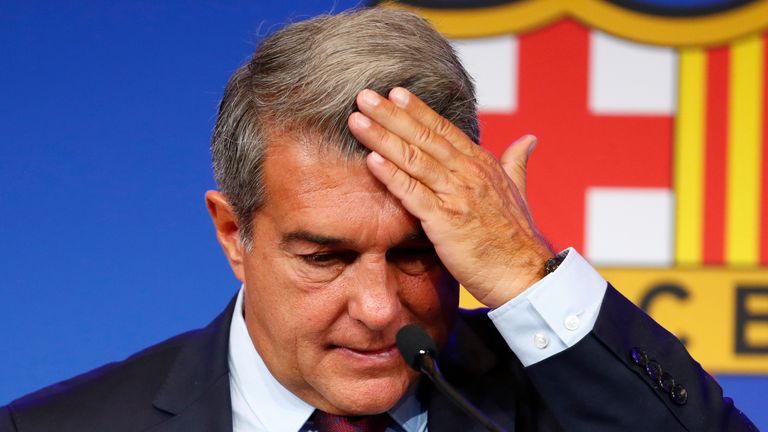 "He is one of seven people who's being investigated over payments totalling £6.3m that were made by Barcelona over a period of 17 years from the club to a former referee called Jose Maria Enriquez Negreira.
"Negreira wasn't just any old normal referee, he was a senior referee and also for a long period he was a vice president of Spain's referees' committee. Now that is the committee that allocates referees for games in Spain, so he was a very powerful referee, a senior figure.
"The question that is being asked is why were Barcelona paying him £6.3m over 17 years?
"All the people who are being investigated and Barcelona deny any wrongdoing whatsoever. They say there is an innocent explanation for these payments – in Spain it is quite normal for clubs to pay referees and former referees for advice about technical matters because they want to tell their players how referees act, how they apply the law and that is why they employ these referees on an ad hoc basis and make these payments for technical reports.
"Now the prosecutors are not buying this and that is why we saw last month the offices of the referees' committee being raided by Spanish police who were looking for documents relating to this case.
"What the prosecutors believe may have happened from what they have said in court is that Barcelona were getting some kind of benefit from these payments and these benefits were to the detriment of other clubs in Spain."