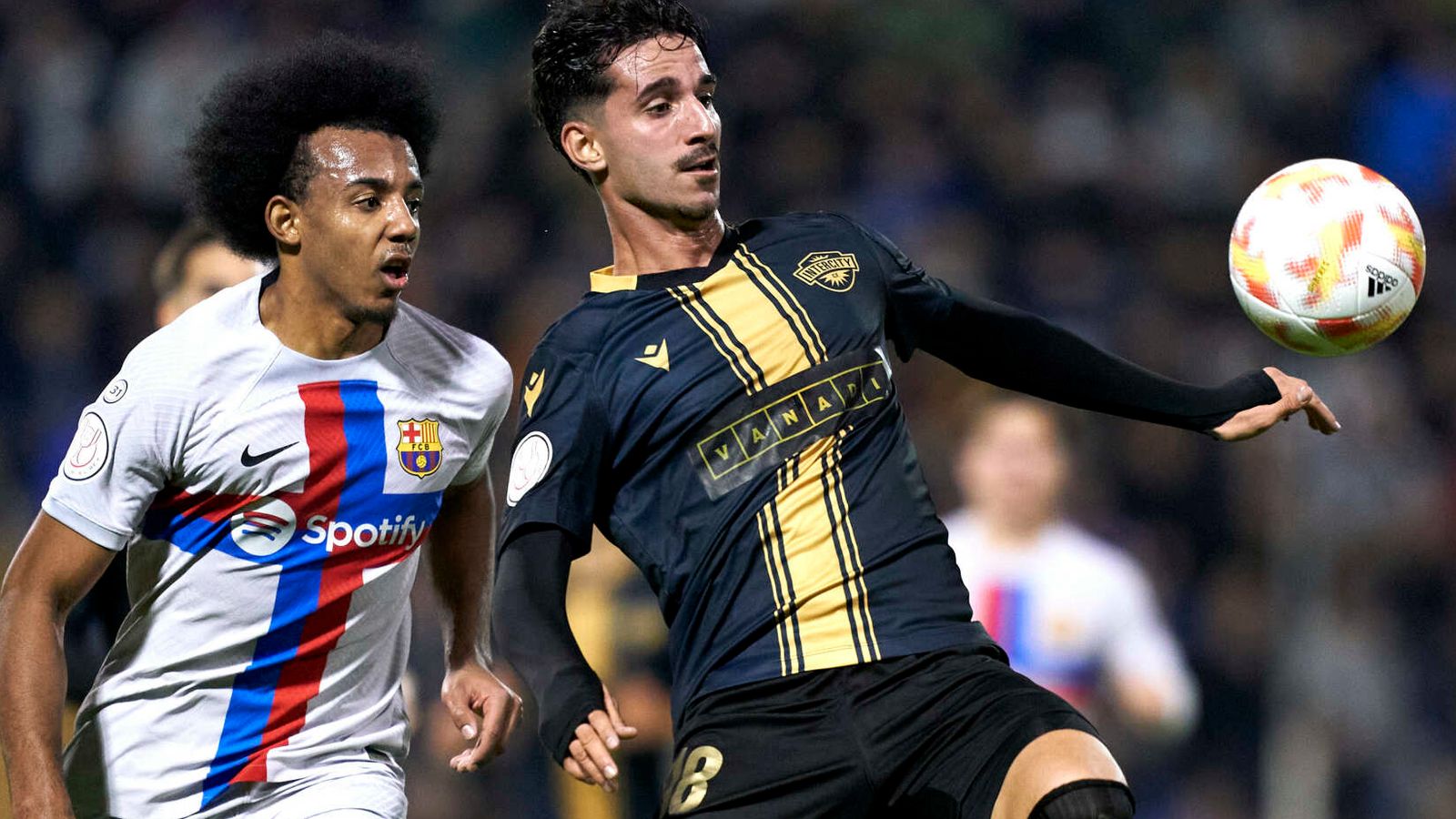 It's not often a current Barcelona season ticket holder scores a hat-trick against them, but that's exactly what happened on Wednesday night.
Oriol Soldevila, a former Birmingham City midfielder who is now playing in the third tier of Spanish football, became the first player to score three against the Catalan club since Kylian Mbappe two years ago.
The 21-year-old former Barcelona youth player was playing for CF Intercity in the Copa del Rey as Xavi's side scraped through with a 4-3 win after extra-time.
"Wednesday was very special for me and the team," Soldevila told Sky Sports News. "I was with Barcelona for two years and it was amazing experience.
"All my life I have been a member of Barca. You pay a yearly quote to have a seat in the stadium and when I am back I go to the match with my dad and family."
Barcelona led on three occasions in normal time thanks to goals from Ronald Araujo, Ousmane Dembele and Raphinha but each time Soldevila hit back. Ansu Fati netted the winner in extra-time to prevent a huge upset.
"When the third goal went in, I could see the reaction in the stands. It was like oh my god, this is amazing," Soldevila continued.
"In extra-time they were so fresh and we were a little more tired. They were passing the ball and passing the ball."
One of Soldevila's close friends is Barcelona goalkeeper Arnau Tenas, who was on the bench for the visitors.
"I played with Ansu Fati, Alejandro Balde and Arnau is one of my best friends. I also know Eric Garcia," he said.
"I swapped my shirt with Raphinha on the pitch. The shirt that I wanted was from Arnau and he gave me it and he also gave me Pedri's shirt. Pedri was not there but he brought it from Barcelona, so I had three shirts."
Soldevila left Barcelona for Birmingham before moving to Alicante to play for CF Intercity.
"Birmingham was an amazing experience," he said. "We won the (youth) league and then moved to the Premier League 2. It was a tough standard.
"I learned a lot in England about life as a footballer but also the physical aspect of the game."
CyberSEO.net – ChatGPT autoblogging and content curation plugin for WordPress