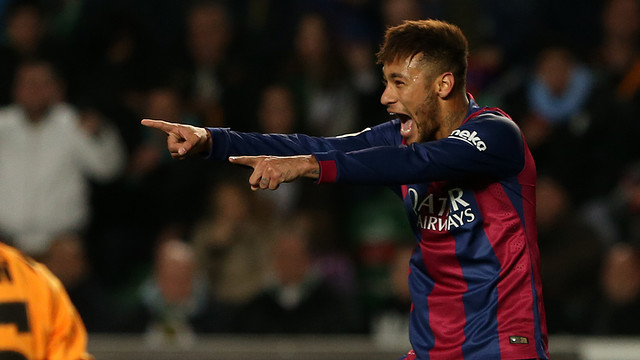 Neymar: It's easy to play alongside the best player in the world
Back in training on Monday
The first team squad will be back in training at the Ciutat Esportiva Joan Gamper at 11.00am (CET) on Monday.
After another stellar performance in Barça's 0-6 win at Elche, Neymar admitted: "I'm very happy with the season I'm putting in – I'm playing every game and I'm loving it"
The Brazilian explained: "Elche started strongly – they were at home and wanted to play well, but we got a good win. Playing with Messi, the best player in the world, is very simple. For me it's an honour to be playing alongside him – he's my hero!"
With Real Madrid getting a late winner in Cordoba, the top two are still just a point apart, but Neymar is only focussed on his own team's performances: "we have to just get on with our business and do it well. After that, we'll see what the rest of the teams do. We always depend on ourselves, on what we do on the pitch. Playing as we are, it'll be hard for us to lose"
Pedro, Bartra and Rafinha also spoke after the game:
Pedro:
"Now we have to focus on the Atlético game, which will be very tense and tough. This game tonight was a bit of a banana skin for is, it's always hard on the road against teams who shut up shop".
"We are enjoying one of our best moments, that's for sure. We are on a good run and morale is high – that's how we have to continue".
"It was harder for us in the first half, but we had more possession after the break and when they went a man down it was more difficult for them".
"We are where we want to be, but there are a lot of games still to go, nothing is decided and we will carry on fighting".
"I think we started okay, but it's hard to get goals at the beginning. Once Piqué scored it was more comfortable, we had more chances and the goals came".
"Elche are always a tough team. They are lively and aggressive and don't give you time to think. What's more, the pitch was very slow and that made it hard for us to play our game".
"Playing with Messi and Neymar – and Suarez too – is a real pleasure. I'm very happy how the game went".
"It's always good for a front man to score – it was a gift from Neymar".
Bartra:
"It was an important win because it's always hard away from home. We all played our part in the win".
"We suffered a bit in the first half, but we imposed ourselves on the game. We are doing well and we're full of confidence".
"We all feel we can get into the starting XI. We are at a high level and we want the players who are first choice to know that we are right there if they slip up".
"The Neymar-Messi partnership is spectacular. Let's hope they keep it up because when they are doing well, we will be doing well".
We felt good after the Atlético game and we will fight till the last minute".
Rafinha:
"Happy with the three points for the team – they are important for us".
"We knew that Elche would come out strong and they did. We had to find spaces and that's what we were able to do to win the game".
"I'm getting better all the time, with plenty of confidence and I have to make the most of the game time I get".
"We are still in the hunt for the League, the Cup and the Champions League – we want them all".

Players reaction after 0-6 against Elche by fcbarcelona