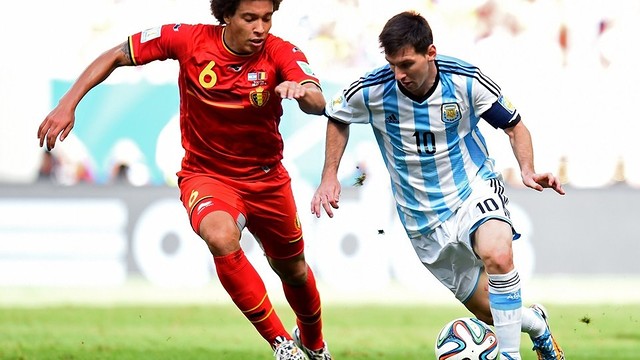 Brazil face Germany on Tuesday with Dani Alves in the side but Neymar out through injury
Leo Messi and Javier Mascherano will lead Argentina in the other semi-final against Louis van Gaal's Holland
After two days of high-intensity quarter finals, the World Cup has been cut down to just four teams, with plenty of Barça involvement on the pitch. And former FCB manager Louis van Gaal will also be there with Holland, the only side left that has never won the trophy before. The Dutch face Argentina in the second semi-final, a day after Brazil and Germany will have contested the other place in Sunday's final at the Maracanà.
No Neymar
Brazil beat one of the finest sides in the competition, Colombia, 2-1 in a dramatic quarter final, but there was a cruel price to pay. Barça striker Neymar fractured a vertebra and is out for what's left of the tournament. With Dani Alves in the squad, they now go on to face Germany, who knocked out France, in Belo Horizonte. Manager Scolari will also be missing Thiago Silva, who picked up a second booking against Colombia and is suspended. Alves played no part in Friday's match, but is likely to return to the starting line-up on Tuesday at 10.00 PM CET.
Speaking about his unfortunate situation, Neymar has said that "they've taken away my dream of playing in the final, but not of being champion of the world".
Messi and Mascherano on Wednesday
Leo Messi and Javier Mascherano will also be in the final four after a narrow win, 1-0, against dark horses Belgium. Argentina dominated the first half, but suffered towards the end of the game, eventually securing passage to a semi-final in Sao Paulo on Wednesday at 10.00 PM CET. They'll face Holland, who put an end to the Costa Rican dream in a penalty shootout on Saturday night. But the South Americans will be missing one of their key strikers in Àngel Di María, who was injured against Belgium. Mascherano will be hoping to repeat his stellar performance on Saturday, while Leo Messi will once again be the man on whom Argentina's hopes are pinned.
After helping his side to qualification, Messi said "we were more of a team than ever, and we're happy with how we played … I want to send a big hug to all our fans and tell them that we're still in the race. Getting through to the semis for the first time in 24 years was a huge boost for our confidence".