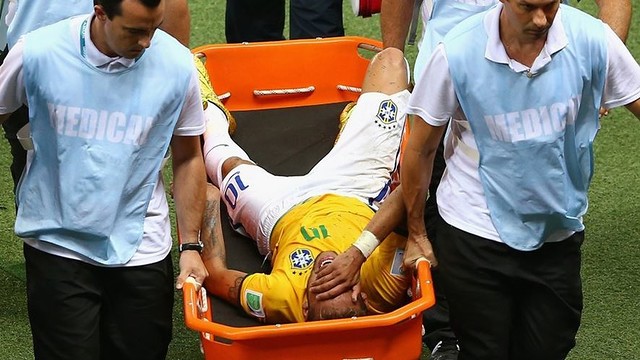 The FC Barcelona star fractured a vertebra in the quarter-final against Colombia, and will miss the semi-final with Germany and a hypothetical final
There are bittersweet feelings in the Brazil camp after qualifying for the semi-finals against Colombia but losing FC Barcelona striker Neymar to injury. Towards the end of last night's game, which saw the hosts through to the final four, Neymar Jr took a knock in the back from Zúñiga, causing a fracture to his third lumbar vertebra.
Out of the tournament
Neymar was stretchered off and taken to Hospital São Carlos in Fortaleza, and shortly after Rodrigo Lasmar, the Brazilian team doctor, confirmed that the player will not be able to play in the semi-final, or in the final, should his team qualify.
However, further tests will be required on Saturday to determine the full extent of the damage. "It is not so serious that he'll need surgery" explained Rodrigo Lasmar. "But it's painful and his back will need to be immobilised".
Neymar has been one of the outstanding players of the World Cup, scoring four goals and giving one assist in five matches and winning two Man of the Match awards.
Messages of support
When the news broke, messages of support for Neymar started arriving from all angles. "It is sad news, nobody expected this" said his team-mate Hulk. "He was helping us a lot and now we'll need to run even more for him. We want to dedicate the title to him".
FC Barcelona president, Josep Maria Bartomeu, sent a message to Neymar via social networks.
All the best, Neymar. I hope you get well soon. A big hug.
— Josep Maria Bartomeu (@jmbartomeu) July 5, 2014
Leo Messi, in the build-up to his own game for Argentina, also sent a message of support to his Barça colleague: