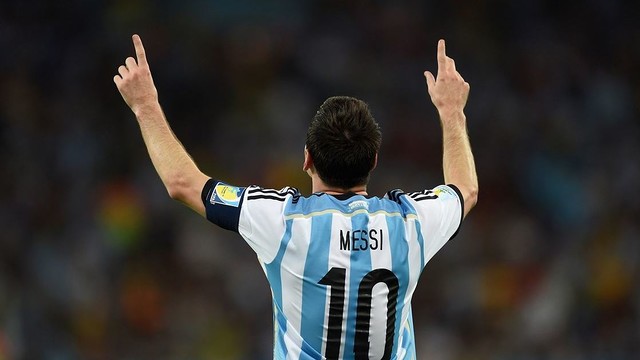 Messi has been named 'Player of the Match' in the four games played so far by Argentina
He is the only player to accumulate four awards, and has been decisive in the fact that Argentina are in the quarterfinals of the World Cup
After the match, Messi said that the team had suffered, but that "the most important thing is that we are still in it"

World Cup on Social Networks
The Barça players continue with their own points of view surrounding the World Cup Finals in Brazil, via Social Networks.
Bòsnia Herzegovina, Iran, Nigèria,and Switzerland. These were the four victims who suffered at the feet of Leo Messi in these World Cup Finals. Messi is still one of the star players in the World Cup in Brazil, which has now reached the quarterfinal stages. Messi is so far the only player who has received four MVP awards. Argentina went through this Tuesday after beating Switzerland in extra time in the last 16. Now, in the quarter finals, Alejandro Sabella's team will play Belgium, one of the sensations of this World Cup
Always decisive
Messi was the only player who received the award for 'Player of the Match' in the three matches of the group stage, and now he's the only player to receive four awards. The Argentine number 10 began the tournament scoring the second goal of the match against Bosnia Herzegovina, and in the second game scored the only goal against Iran, in stoppage time. In the third and final game in Group F, Messi scored the first two goals for Argentina, who ended up beating Nigeria 3-2. So, Messi ended an excellent first phase with four goals, and three MVP awards.
Following the group stages, on Tuesday Argentina came up against Switzerland in the last 16. The game, like most of the other games in this phase, was very even and was eventually decided in extra time. Messi didn't score this time but was again key to the win. He went on a run from a long way out, and slipped the ball to Di María, who scored the 118th minute goal which put Argentina through to the quarterfinals.
"In the World Cup there are no easy matches"
At the end of the match, Leo Messi was ecstatic that Argentina had qualified for the quarterfinals. He admitted that: "We suffered a lot during the match, but the most important thing is that we are still in the competition". Talking about the problems that Argentina had, the Barça star said "there are no easy games in the World Cup Finals".
Another Barça player with an important role for Argentina is Javier Mascherano. The 'Jefecito' has played every minute so far (390) and is key in midfield. After qualifying for the quarterfinals, Mascherano said: "We deserved the win. Fortunately, right at the end Messi and Di Maria were involved". In addition, counting the game on Tuesday, Mascherano ranks as the fifth player from Argentina with more games in the World Cup, with 13, equalling Fillol