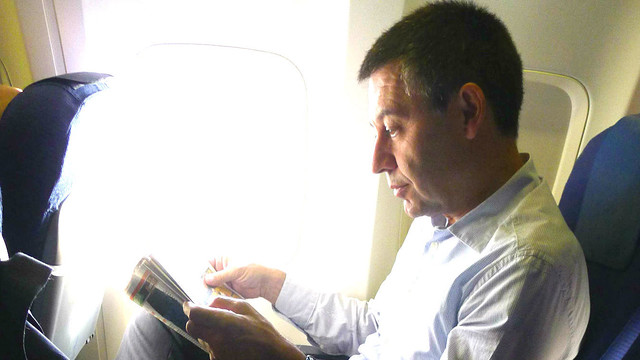 A group of FC Barcelona representatives, led by the president, is travelling to Brazil to support the two players in the final
FC Barcelona will be there to support Leo Messi and Javier Mascherano as Argentina play in the World Cup Final. Travelling to Rio are president Josep Maria Bartomeu, vice-president Carles Vilarrubí, director of sport Andoni Zubizarreta and his new assistant, Carles Puyol. The former FCB captain will be handing over the trophy as a representative of the previous winners, Spain, in South Africa 2010.
Before heading for Brazil, president Josep Maria Bartomeu spoke to fcbarcelona.cat about the presence of the two players in the final and the future of the first team.
What kind of final are you expecting?
"The World Cup Final is always a great festival of football. Both Germany and Argentina have had great tournaments, playing very different styles. It will be interesting and should be decided by small details, as happened in the 1990 final between the same teams".
What would you like as president of FC Barcelona?
"I hope that Leo Messi and Javier Mascherano win the World Cup. We are travelling to be with them. They deserve this in recognition of their careers. They are two born winners, I hope they enjoy the final and have plenty of good luck".
What do you make of Messi's World Cup?
"I am very happy that he is about to play in the final, because he wanted it so much. And he has played a direct role in all of his team's victories and has scored some lovely goals. Leo has once again shown why he's the best player in the world. Barça fans are getting behind him in this final, we have seen him grow up and triumph as a footballer".
And Mascherano?
"He's been another of the big stars of the Brazil World Cup. His football brings meaning and stability to the Argentina team, and he's also showing personality, leadership and a winning spirit. Any team would like to have a player like Mascherano. And Barça are privileged to have him".
What about Neymar's serious injury?
"Until the injury he was having an incredible tournament. Despite his youth, his progress as a footballer and his leadership made a mark on the Brazil team. We have been close to him since the injury, the medical services have been in contact with him and his family. It was a nasty shock for all football fans, especially those of Brazil and Barça. I hope he gets fit again soon and wish him all the best. He is very young and will have plenty more chances to win things for his country. Whatever happens in the final, Messi and Neymar have been the two big stars of this World Cup".
Another player who has suffered the bitter side of football was Dani Alves. What did you make of him?
"In the games he played, Alves once again showed his qualities. He suffered a major setback, but his character will fight back against the situation".
Did you watch Germany's famous 7-1 win against Brazil?
"I was on the train at the time, coming back from a visit to Alfredo Di Stéfano's body in Madrid. I was keeping up to date with the game on my mobile and it was an incredible surprise. Nobody expected that".
What about Spain's early elimination with so many Barça players in the squad?
"That was also unexpected. But that's football. But they were also playing some very strong teams, who showed how good they were later in the tournament. Both Holland and Chile. You should always evaluate these things later, when things have calmed down, or you can lose the sense of perspective. History will say what all those players did for Spain. It was a defeat, but we have to recognise that all these players did so much to win so many things for Spain".
Chile were in the same group. What did you make of Alexis Sánchez and Claudio Bravo?
"They both played brilliantly. Alexis led the Chile team and Bravo was considered one of the best goalkeepers in the competition. I'd like to take this opportunity to thank Alexis for all he has given to the club in the last three years and wish him all the best for the future".
Àlex Song's Cameroon and Ivan Rakitic's Croatia were less fortunate. What can you say to them?
"They were unlucky to be in such a strong group, with one of the favourites Brazil and one of the surprise packages in Mexico. We need to cheer them up".
Are you worried about the spirits of the Barça players that didn't do as well as they might have liked?
"I am confident that the World Cup experience was good for them. I hope they recover and recharge their batteries. I am sure they'll be excited about the new season and will be joining a squad that's undergone several changes. I hope they'll be ready to help us to win everything".
The World Cup is ending as the news was announced of Luis Suárez's transfer. What can we expect from him?
"Suárez will bring his top qualities as a footballer, with goals and the desire to compete and win. We'll all help him and his family to adapt quickly to Barcelona and the team".
Do you think his suspension is a factor against him?
"We are supporting the appeal being made by the Uruguayan Federation to the TAS and are convinced that FIFA's initial sanction will be reduced. He recognised his mistake and Barça will be making sure he successfully reintegrates into the football world".
What else is Barça looking for?
"We are focusing our efforts on finding what the coaches need, which as you know still means we have to sign some new players. Probably in defence".
What kind of market is the club dealing with?
"The end of the World Cup will clearly revitalise the market. A lot of teams have been waiting until now to make their signings. Everybody was sure that that their players values could change in Brazil".
How do you feel about the restructured squad?
"I'm excited about it, because this is the in-depth restructuring that we'd talked about. Zubizarreta and Luis Enrique are working hard to make a team that can challenge for everything. The team is in good hands".