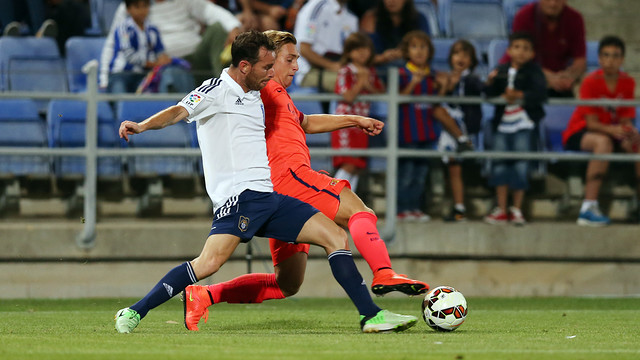 "I played 45 minutes" he said. "I was calm. I played the way I like and think I did well"
"Ter Stegen and Bravo are great keepers. There will be competition, but that's good for the team", added Masip

Sergi Roberto to speak on Monday
The team has two training sessions on Monday. They will train at 9:30 AM CET and at 6.30 PM CET. After the session, Sergi Roberto will give a press conference.
After Barça's win tonight, Gerard Deulofeu said "it seemed comfortable on both wings, the wide players had freedom to move. It wasn't an easy game but we got the win and it's helped with our fitness going into the rest of the preseason."
He said he felt clam during the 45 minutes he was on the pitch, and added that "the Barça B players are a great help for our preparations".
The following are some of the comments made by the players after the match:
Masip:
"I am working hard to get a game and make it hard for the boss to decide which keeper to choose".
"Ter Stegen and Bravo are great keepers. The competition will be tough, but that can only be good for the team".
"Ter Stegen seems to be a very complete keeper. He's young but a great keeper".
"I think we started fighting for everything and by doing that, we'll be competing to win everything".
"Luis Enrique has very clear ideas. He tells us his ideas and we are happy to oblige. He motivates us and gets the best out of his players".
Ter Stegen:
"It was nice to play. I like the way Barcelona play, and hope it stays like that in the future."
"We played well, and I didn't feel nervous".
"This game for me was more about passing the ball than stopping it, but that's important for the game and I think we did a good job. It was the first match. It was fine".
"Training sessions are different to my old club, but I think this is my way of playing football, so I like it. It's easy to play here".