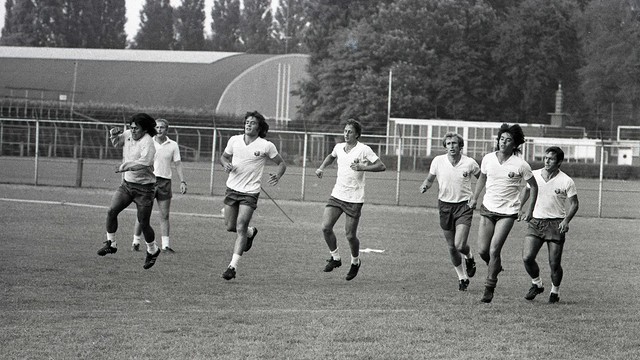 FC Barcelona are heading to England for a preseason training camp, the first such trip to the country since they were at Marlow, London in 2009
Holland has traditionally been the most popular destination for Barça's preseason trips

On July 14, FC Barcelona are travelling abroad for a preseason training camp for the first time in four years. They're going to England, like in 2009, the last such trip, when they spent time in Marlow, London.
The first team started organising preseason trips in 1970, at La Molina in the Catalan Pyrenees, where they returned in 1972 before continuing the preseason in another Catalan town, Olot. It would be more than three decades before Barça stayed in Catalonia for another preseason camp, when they visited Peralada (Girona) in 2004.
Holland the favourite
It was Dutchman Rinus Michels who took the team abroad for the first time in 1973, when he picked Papendhal in his home country as the location. Managers like Venables, Lattek and Cruyff have continued the tradition of travelling to Holland, the country that hosted Barça preseason training sessions for twelve consecutive years between 1988 and 2000.
Other destinations have included Switzerland in 2000 and 2011, Sweden in 1997 and also Denmark in 2005 and 2006, when Frank Rijkaard took his players to Aarhus.
UK getting more popular
This year the venue will be the FA's top quality facility at St. George's Park. This will be the fourth time FC Barcelona has travelled to England for preseason training, after previously visiting the country in 1998, 2001 and 2009. And it's the sixth trip to the United Kingdom. Frank Rijkaard took the squad to Scotland in both 2006 and 2007.