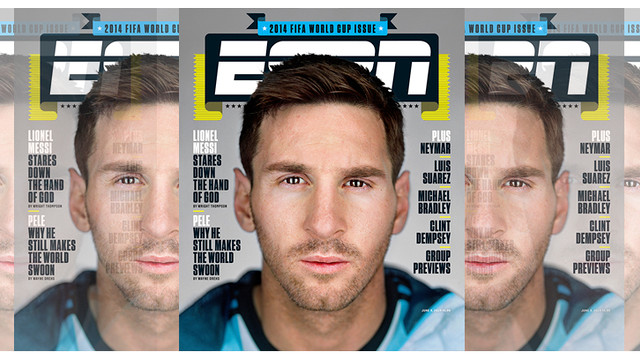 The US network has spoken to Leo Messi about his personal life in the build-up to the World Cup
The Argentinian feels he has matured professionally and personally since South Africa 2010 and has high hopes of lifting the trophy in Brazil
Asked to name the best players in the world, his FC Barcelona team-mates Xavi, Iniesta and Neymar were among the names he mentioned
There are only a few days to go before the World Cup gets under way in Brazil, and one person that the media will be watching very closely is Leo Messi. In an in-depth interview, US sports network ESPN spoke to the Argentinian about his life both inside and outside of football.
The multiple Ballon d'Or winner was asked to name the best players on the planet, and didn't think twice about mentioning three of his Barça team-mates, Neymar, Iniesta and Xavi. But he is also an admirer of Real Madrid's Cristiano Ronaldo, and Bayern Munich's Ribéry and Robben, adding that "I could name a lot of other players, but it's something I really think should be left to the fans to decide."
[[CITA_1]]
Argentina's quest to win their World Cup title starts on June 15 against Bosnia in a group that also includes Iran and Nigeria. This will be Messi's third appearance in the finals, and this time he's going as captain. "I have matured a lot as a footballer over the last few years" he said. "I've been through a lot of good and bad things that have made me a better professional."
[[CITA_2]]
"I would love to win the cup with Argentina" he continued. "But not to change the way people view me from outside, but because that's the team's objective and to be able to add a new title to my honours list … I'm really jealous of my team-mates who've already won it. No matter how much I ask, they'll never be able to describe that feeling to me".
Messi also spoke about how he got where he is today, saying it was "the desire to get better all the time, to want more and be the first person to be critical of myself." But the biggest change in recent years has not been a football matter. "Becoming a father makes you see things differently" he admitted. "Now my son is what comes first and then the rest. It's changed me a lot".
There are so many great players,: Neymar, Iniesta, Xavi, Cristiano, Ribéry, Robben… I could name a lot of other players, but it's something I'll let the fans decide
I'm really jealous of my team-mates who've already won it. No matter how much I ask, they'll never be able to describe that feeling to me