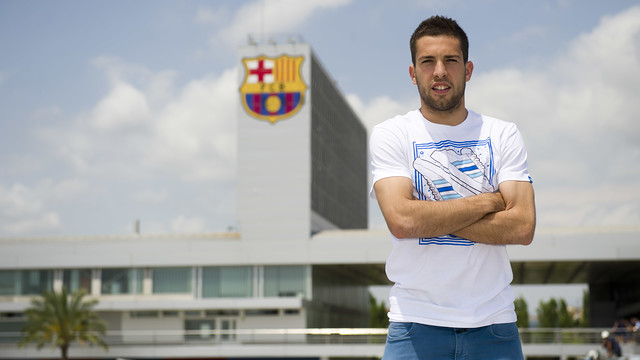 The Club announced the signing 28 June 2012. Over his two seasons at the Club, Alba has established himself as first choice full back, making 70 appearences and scoring five goals.
Two years ago, on July 28 2012, Jordi Alba joined Barça fromValencia, the Club's first signing of the summer for Tito Vilanova in his debut season in charge of the team. For the 23-year old Alba, it was a return home, having spent seven years, from 1998 al 2005– at La Masia, before playing for Cornellà, Nàstic de Tarragona and Valencia.
Regular first choice
In those two years, Alba has put in 70 appearances and scored five goals, playing in 44 games in his first season and just 26 in his second – when he suffered a series of injuries – and when available was a regular first choice for both Vilanova and Gerardo Martino.
Alba made his league debut on August 19, 2012, in the opening game of the season, a 5-1 home win against Real Sociedad and a few weeks later he scored his first goal in the Cup game against Hospitalet. His first league goal came in the 4-5 win against Deportivo at Riazor and three days later bagged his first Champions League goal with the winning strike against Celtic in Glasgow (1-2)
Muscle injuries affected Alba last season, but he still boasts impressive figures, with 47 wins, 12 draws and 11 defeats in his 70 games over the two years.