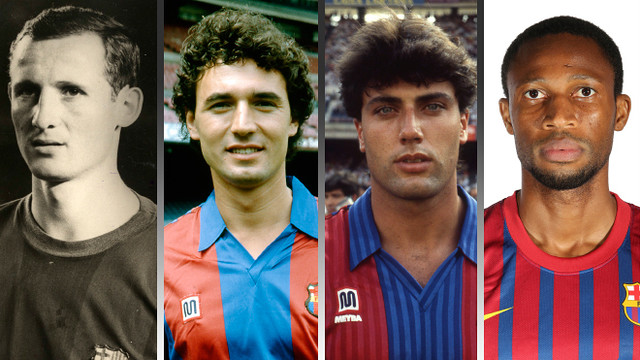 Recent acquisitions from Sevilla have included Seydou Keita, Dani Alves and Adriano Correia
Rakitic is the 11th player to move from the Sanchez Pizjuan to the Camp Nou
From Sevilla to Barça
1933 Padrón
1961 Szalay
1965 Gallego
1967 Oliveros
1979 Rubio
1988 Serna
1990 Nando
2008 Keita
2008 Alves
2010 Adriano
2014 Rakitic
Ivan Rakitic has just signed for FC Barcelona from Sevilla FC. He thus follows in the footsteps of such players as Keita, Alves and Adriano, who all moved from the Sánchez Pizjuán to triumph at the Camp Nou.
Seydou Keita was the first of the trio. The Malian, now at AS Roma, was the first new arrival of the Guardiola era and played 188 official matches in four years with the FCB first team, and was one of the unsung heroes of the multiple title winning squad. He was followed by Dani Alves, who is of course still at FCB, having made the second highest number of first team appearances ever for a foreigner (297, topped only by Leo Messi). In six seasons, the Brazilian has won 16 major trophies. Soon after, his compatriot Adriano was signed in 2010, a hard-working full-back of a similar ilk to Keita, but who also scores goals like Alves: 14 in 142 matches over four seasons, he too is still on the FC Barcelona books.
Seven others
Keita, Alves, Adriano and Rakitic have all moved to Barça from Sevilla this century, but they were by no means the first. As many as seven players before them made the same switch, namely Padrón (1933/34), Szalay (1961-63), Gallego (1965-76), Oliveros (1967-69), Rubio (1979-81), Serna (1988-93) and Nando (1990-92).