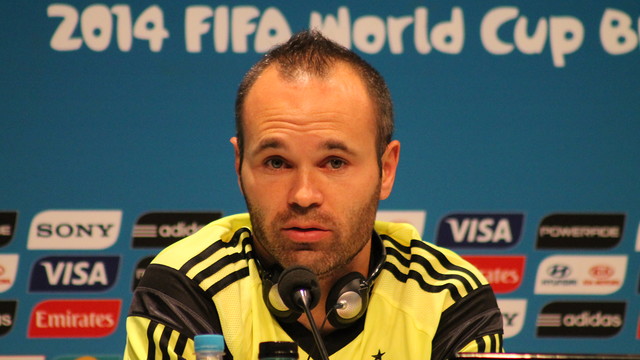 Spain, with six Barça players, will face off against Alexis' Chile on Wednesday in a match that very well could decide Spain's future in the competition
24 hours before the crucial match between Spain and Chile, FC Barcelona's Andrés Iniesta held a press conference. The midfielder noted that the upcoming showdown with the South Americans could very well decide Spain's future in the World Cup.
"We're prepared to win our remaining two games, both of them are finals," explained Iniesta. "The match against the Netherlands should be forgotten. We're going to give it our all." The 5 to 1 against the Netherlands leaves Spain in a precarious position. "We have to win and not focus too much on how many goals we score. We have to be loyal to who we are, that approach is more viable," he said.
"The match against the Netherlands was a hard blow, but in these situations one must pick himself up and give everything he has. I wish the game against Chile was scheduled for the day after the game against the Netherlands."
Spain are now in Rio de Janeiro as are Chile. The team led by Alexis Sánchez will try to win the three points and thus practically secure a spot in the next round."
Messi, pleased with his goal
Leo Messi also talked to the press on Monday. "The first game of the World Cup is always difficult. We'll reach the level that we want to be at; we've been playing at a good level for a long time now." He added: "It was special to score that goal, but not because it was in the World Cup. It was a joy to score."
Messi also weighed in on how other teams are faring. "The Netherlands and Germany were the best teams in the first round of games. But as the World Cup progresses, other teams will improve." He went on to say that "Spain's defeat wasn't expected, especially because of the big scoreline."