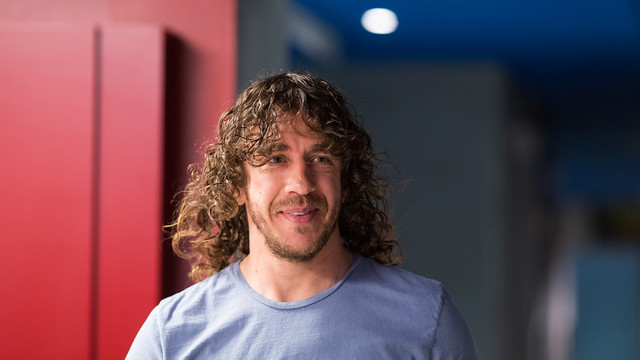 In an exclusive interview with Barça TV and www.fcbarcelona.cat, Carles Puyol looks back at the highlights of his long career
"Two or three days before the Wembley final, I decided that if we won, I'd let Abidal collect the trophy" he remembers
Carles Puyol has looked back at the highlights of his illustrious career in a special programme, "Puyol: 15 years, 15 moments", that was shown on Barça TV for the first time on Saturday evening. The man who has been announced recently as the new assistant to the sports management team remembers such moments as marking Figo, the Champions League finals in Paris and at Wembley, and the 6-2 win at the Santiago Bernabéu.
Ten years have passed since Puyol inherited the captain's armband from Luís Enrique, and describing the man who will now manage the FCB first team, he said that "Luis set a great example as captain. He was captain at a difficult time, but I learned a lot from him and I'll always be grateful for that. I think he was a fantastic captain. One of the saddest things is that the year after he left, we won the title, but he never got to win anything, even though he deserved to".
[[CITA_1]]
Carles Puyol won the respect not only of the Barça fans, but the fans of other clubs too. He has always been the perfect captain. "I have always tried to defend the club and my team-mates" he says. "I have always wanted to help in any way I could and do things as well as I possibly could. To do whatever I thought was best for the team."
Paris 2006 was special to him in many more ways than one. "It was a spectacular day, and the only game my father ever came to see" he explains. "He'd never come to watch me play, but Manel Sostres made him come to that one, and I'm so glad that he was there to see me win the Champions League, the most important title of all. He'd watch my games on TV, but he'd never question my work, he'd just ask how I felt and that was it. He was there by my side, and I have to thank him for that".
[[CITA_2]]
Another memorable day was the time that Luís Figo first returned to the Camp Nou, but wearing a Real Madrid jersey of all things. Puyol recalls that "he'd been a very important player for Barça and the fact that he'd gone to our biggest rivals meant that his first game back here would be remembered for the atmosphere. It was incredible. There were moments when we just kept playing because we couldn't hear the referee's whistle. All we could hear was the whistling from the crowd".
And then there was the famous 6-2 win at the Santiago Bernabeu. Speaking about his famous goal, Puyol confessed that "we hadn't practiced that move, but we did speak about it. Just before we went onto the pitch, Tito told us the plan. Only three of us knew about it. Gerard, who had to block my marker, Xavi and me. You can see just before the kick how I'm making signals to Xavi, and the plan worked to perfection:"
[[CITA_3]]
In the programme, Puyol also reveals the details behind the decision to let Abidal lift the Champions League trophy at Wembley in 2011. As he explains, "I'd made my mind up two or three days before the final. I told a few people and asked them not to tell anyone else. I'm a bit superstitious like that. I didn't want to be talking about lifting cups that hadn't even been won yet. It was a great game. And he deserved the honour because of how hard he had fought to get there. He never gave up, he set an example for everybody".
'Puyi' finally decided to call it a day after suffering a series of injuries. "My idea was to carry on playing and try to get better, but my body was saying that enough was enough and I just had to learn to accept it. I was always convinced that if ever I could no longer offer 100%, then I'd have to give up the game, and I clearly can't go on any more. Perhaps I pushed it too much with that knee injury, especially last season. I kept battling as hard as I could and was determined that I could go on training and playing … I'm sure I pushed it much more than I should have, but I did what I felt was right. I wanted to be there for the team, but my knee started telling me that there was simply nothing left for me to do".
"The feeling that the team needs me but that I can't be there for them is what annoys me the most" he concludes. "I was suffering because of it, and that's one of the reasons for my decision. I could put up with the pain, but it was also damaging for the team, and that is what really hurt."
I learned a lot from Luís Enrique and I'll always be grateful for that
Paris 2006 was the only game my father ever came to see
Only Xavi, Piqué and me knew about the move we'd planned at the Bernabeu