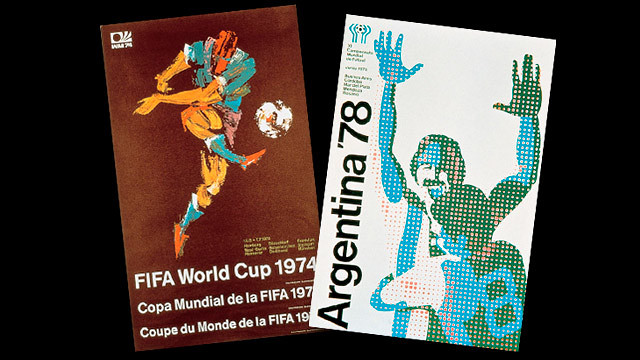 The third in our series on players from Barça at the World Cup. There were two in 1974 and six in 1978.
Today we've got a reminder of the 1974 World Cup, when Cruyff and Neeskens helped Holland to wow the planet with their Total Football, and the 1978 edition, when Holland and Neeskens once again had to settle for second place behind the host country.
WEST GERMANY 1974
– The two Barça representatives in 1974 were both playing for Holland – Johan Cruyff and Johan Neeskens. Spain missed out on the tournament after losing to Yugoslavia in a playoff after they'd finished dead level on points and goal difference in their qualifying group.
– Cruyff and Neeskens were part of the Dutch side that stunned everyone with their amazing Total Football. In the first round, they topped a group that they shared with Sweden, Bulgaria and Uruguay. For the first time, rather than quarter finals, the second phase was played as two further groups of four teams each. Holland faced Brazil, East Germany and Argentina for a place in the final.
– The Dutch won all three games, setting things up for a showdown with the hosts, West Germany. Neeskens put Holland ahead with an early penalty, but the Franz Beckenbauer inspired Germans ended up winning 2-1.
– Neeskens finished the tournament as second top goalscorer, tied with Poland's Andrzej Szarmach and two behind another Pole, Grzegorz Lato, who scored seven. The other Barça player and also future manager, Johan Cruyff, scored three.
ARGENTINA 1978
– There were six Barça players at the 1978 World Cup, five of them in the Spanish squad: Olmo, Migueli, De la Creu, Asensi and Rexach. The other was Holland's Johan Neeskens.
– In the first round, Spain were drawn with Austria, Brazil and Sweden. Things got off to a good start with a draw with Brazil and a win against Sweden, with FCB's Asensi scoring in the latter, but a 2-1 defeat to Austria in the final game meant that Spain failed to progress, with Austria and Brazil going into the last eight.
– Holland were in group 4 along with Peru, Scotland and Iran. After beating Iran and drawing with Peru, they faced Scotland in a head-to-head battle for qualification in the final match. Holland lost 3-2 but edge the Scots on goal difference, and went into a second round group along with West Germany, Italy and the side that had put out Spain, Austria. They managed to win the group to qualify for their second consecutive final, which would once again be against the host nation, this time Argentina. A memorable match ended 1-1, with Argentina finally securing their first ever world title 3-1 in extra time and Holland having to settle for runners-up medals for the second time in a row.