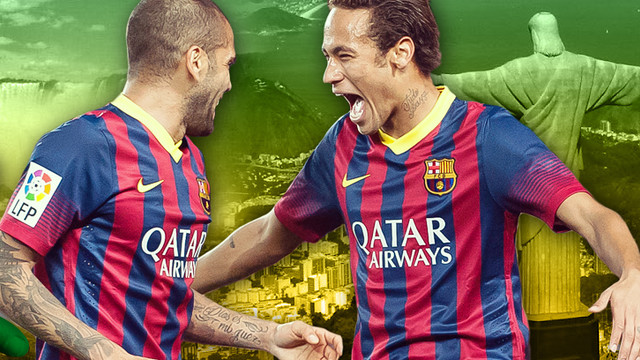 This Wednesday, manager Luiz Felipe Scolari has announced the list of 23 players who will play in the World Cup this Summer, as hosts
Also called up are former Barça players Henrique (Napoles) and Maxwell (París Saint-Germain)

Brazil squad
Julio César, Jefferson, Víctor, Alves, Maicon, David Luiz, Thiago Silva, Dante, Marcelo, Maxwell, Henrique, Paulinho, Ramires, Luiz Gustavo, Hernanes, Fernandinho, Oscar, Willian, Bernard, Hulk, Fred, Jo, and Neymar Jr
Dani Alves and Neymar Jr. are the first FC Barcelona players to be officially called up for the World Cup in Brazil. The Barça full back and Barça forward are both in the list of 23 players announced by Brazil National Coach, Luiz Felipe Scolari, this Wednesday. Also called up are former Barça players Henrique and Maxwell.
Second World Cup for Alves
It will be the first World Cup for Neymar Jr., one of the major stars of the Brazil national team. However, it will be Alves' second World Cup. Alves, in fact, is one of four players on the list who were also in the World Cup in South Africa. The others are goalkeeper Julio Cesar, the other right back, Maicon, and midfielder Ramires.
It's worth remembering that Brazil, as host nation, will play the very first match, against Croatia, on June 12th. Brazil's other games in the group stage will be against Mexico (June 17th) and Cameroon (June 23rd)