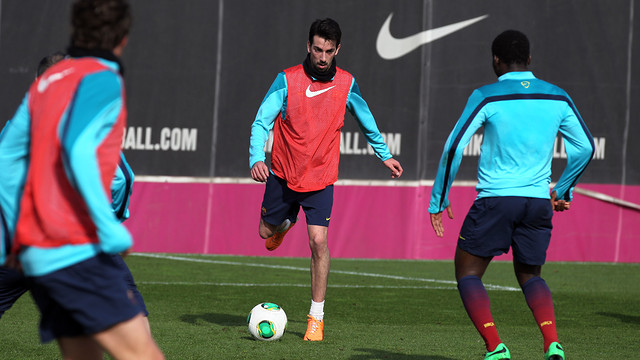 The player has fully recovered from an injury to his left femoral biceps that was sustained in training in February
Today's training session also included FC Barcelona B's Sergi Gómez
It might be a bank holiday in Barcelona, as in most of the world, but for the first team it was work as usual as they continue preparations for Saturday's game with Getafe at the Camp Nou (4.00 PM CET), where they need three points to keep up the pressure on the two Madrid teams that currently lie above them in the table. The session ended with good news for defender Isaac Cuenca, who was declared fully fit after a battling since February to recover from an injury to his left leg suffered in training.
Tata Martino worked with all of the available first team members, as well as Sergi Gómez from the reserves. Meanwhile, the injured Piqué, Puyol, Jordi Alba and Neymar all did specific recovery exercises.
The team will train one more time before Saturday's match. That session will be on Friday at 11.00 AM CET and will be followed by a press conference with Tata Martino.