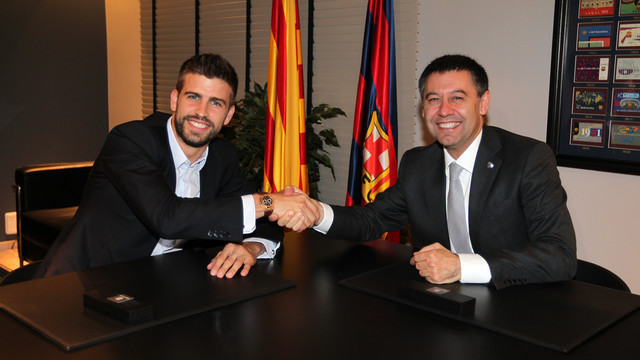 The FC Barcelona centre back has agreed to stay at the club until June 30, 2019
"Barça have to be at the top and we have all the ingredients to get back there", he said
On Sunday, Gerard Piqué renewed his contract with FC Barcelona through to June 30, 2019 after the two parties reached an agreement last week. The player and his agent put pen to paper at the Club offices, where they were joined by president Josep Maria Bartomeu, vice president for sport Jordi Mestre and director of sport, Andoni Zubizarreta.
"I'm closer to retiring here"
If he sees out the agreement, the Catalan will have spent 11 of his 32 years at FCB. "Knowing that I could live out my career here is a big boost for me" he said. "I hope we can enjoy as many successes as we have had already."
Bartomeu added that "it is very important to consolidate Gerard Piqué at Barcelona. He's the best centre back in the world … He is a core part of the new project here at FC Barcelona". Meanwhile, Zubizarreta commented that "renewing Piqué, our main centre back, confirms the mutual confidence of the player and the Club in the continuation and improvement of our project".
Excited about Luis Enrique
Piqué also spoke about new manager Luis Enrique, saying that "I am very excited. In his press conference he showed that he's very clear about his ideas. He knows this place well and I think he'll do a lot of good for us … I am really looking forward to working under him."
He concluded by saying that "FC Barcelona has to be at the top, winning titles and feeling important among the elite of European and world football. We have a team, and a coach. We have all the ingredients to get back where we belong".