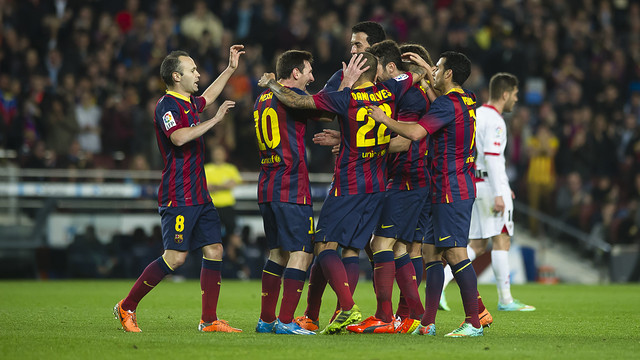 If Barça win the remaining six points this season, the Blaugrana will retain the league crown!

La Liga, just like life itself, presents us with a multitude of situations. When it looked as though the title was impossible for Barça after this weekend's draw with Getafe, the Blaugrana were given a new chance to defend the title they won under the tutelage of Tito Vilanova.
This evening Real Madrid drew with Valladolid at the Nuevo Zorrilla (1-1), thus leaving the La Liga title in Barça's hands. The fact that the Blaugrana host Atlético Madrid at the Camp Nou in the last game of the season means that Barça will have the chance to claim the title in front of the Camp Nou faithful.
The final two games
This Sunday, at 7:00 PM CET (Atlético Madrid and Real Madrid will play at the same time), Barça will play away to Elche. Real Madrid will visit Celta Vigo, while Atlético Madrid will host Malaga at the Vicente Calderón. In the event that all three teams win their remaining games, Barça will win the title over Atlético Madrid, regardless of Real Madrid's result.
| | | | |
| --- | --- | --- | --- |
| | | | |
| G | 88 | 85 | 84 |
| R37 | MALAGA (C) (11/5) | ELCHE (F) (11/5) | CELTA (F) (11/5) |
| R38 | BARÇA (F) (17o18/5) | ATLETICO (C) (17o18/5) | ESPANYOL (C) (17o18/5) |