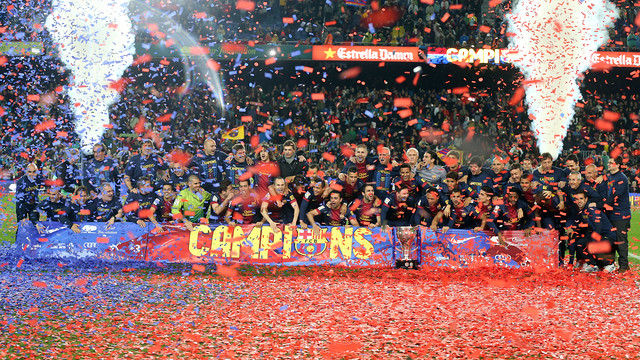 Real Madrid's draw at Cornellà-El Prat won the league for FC Barcelona, who the following day were welcomed to the Vicente Calderón as champions
The 100 point championship was dedicated to Tito Vilanova and Éric Abidal
One year later, and Barça still have a chance of retaining the domestic trophy
It was approaching midnight on 11 May 2013 when the game at Cornellà-El Prat drew to a close, and Espanyol's 1-1 draw with Real Madrid confirmed that their neighbours had won the league. It was FC Barcelona's 22nd title and the fourth in five years, and was just reward after a troubled season.
That all happened 365 days ago. It was the 100 point league. But it was also the league of Tito Vilanova and Éric Abidal, who both had serious medical concerns to deal with. Now FC Barcelona have the chance to retain the title in honour of their former manager, who passed away on April 25.
Without playing
It's always an odd situation to win a league title when you're not actually playing, something which also happened when FCB won the league in 1991 and 2009. The players were preparing for their trip to Madrid to face Atlético, where a win would have confirmed the title with four games left to play. But after Real Madrid dropped two points at Espanyol, the players knew they had won the title anyway. They were welcomed onto the field at the Vicente Calderón with the traditional guard of honour. But despite having the title in the bag, they weren't going to take things easy. There was something else they had set their eyes on.
100 points
The previous season, Real Madrid had set a Liga record by getting 100 points for the first time ever. Now Barça had a chance of equalling that feat. And they did it. They beat Atlético Madrid 2-1 and followed that with wins against Valladolid (2-1), Espanyol (0-2) and Malaga (4-1) to complete the historic century.
This amazing achievement was thanks to the team's consistency all season, especially during the first half, when Barça set a new record by getting 55 out of 57 possible points.