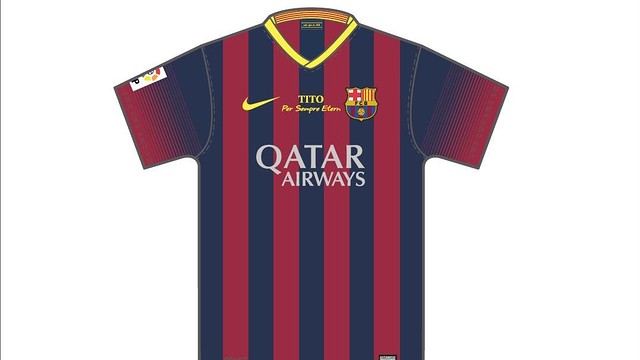 The players will be wearing shirts with a special farewell message for the late coach
Anti-racism message
FC Barcelona also wishes to express its unconditional support for the anti-racism campaign, and stresses the civil, cultural, social and sporting importance of the UEFA messages shown before each game: Respect and No to Racism.
In support of this initiative, on Saturday the club will be using its video scoreboards and digital hoardings to say 'No to racism'.
Next Saturday before the league game with Getafe, the Camp Nou will be paying tribute to Tito Vilanova, the former player and first team manager who passed away on April 25.
The club wanted to offer the players and fans this chance to express their feelings, which will involve the team wearing a special commemorative shirt with the words 'Tito, per sempre etern' (Tito, forever eternal) on the chest.
A video showing highlights of Tito's life will be shown on the video scoreboards, a huge banner will be unfurled on one side of the stadium and announcer Manel Vich will then introduce a minute's silence.
The club is calling on supporters to make sure they get to the stadium about ten minutes earlier than usual in order to join in with this emotional farewell to Tito Vilanova.
More than 12,000 condolence messages
Apart from the 'space for condolences' at the Camp Nou, FC Barcelona is also offering the chance for fans who can't get to the stadium to express their sympathy for the loss of Tito Vilanova. A special email address was set up just for this (TitoEtern@fcbarcelona.cat). So far, 12,128 messages have arrived from all around the world