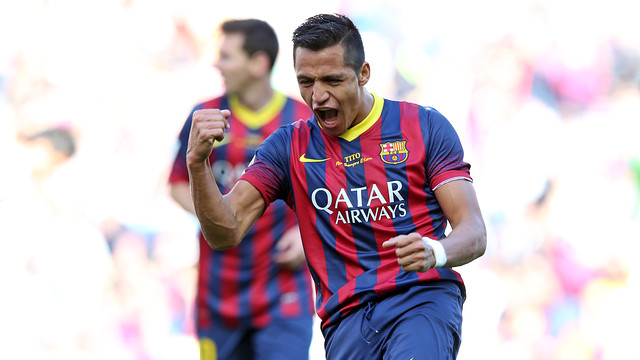 The Chilean forward hadn't scored a goal since March 16th
The Barça number 9 has had his best scoring season: 20 goals in 52 games
The 2-2 draw with Getafe drastically reduces the League Title options. However, there are lots of stats from the game, reviewed below:
Alexis Sánchez scored again, following ten matches without a goal. He hadn't scored since Barça v Osasuna (7-0) on March 16th.
Since then Alexis had been in the starting line-up five times and on the bench six times.
The barça number 9 is having his best scoring season. He's scored 20 gols in 52 matches, much better than the 15 and 11 goals in the last two seasons.
Getafe is one of his favourite victims. He's scored four goals against them in la Liga, the same number as against Rayo Vallecano, his other preferred rival.
FC Barcelona have now scored 99 goals in La Liga. If they score against Elche or Madrid they will have scored 100 goals for the third consecutive season.
Marc Bartra was the player who won most balls. With 18, he was followed by Escudero with 13, and Busquets with 10.
Alves (115), Xavi (110) and Busquets (100) were the only three players who made over 100 passes in total. Escudero made most passes for Getafe, with 41.
Adriano received his 8th yellow card in La Liga against Getafe, only exceeded by Sergio Busquets, with 11.
Marc Bartra has been in the starting eleven for the last four matches, equalling his personal record as a Barça player. He had been a starter in four consecutive matches at the start of the season (Almeria, Celtic, Valladolid adnOsasuna).
It's now eight games since FC Barcelona kept a clean sheet, their worts sequence of the season.