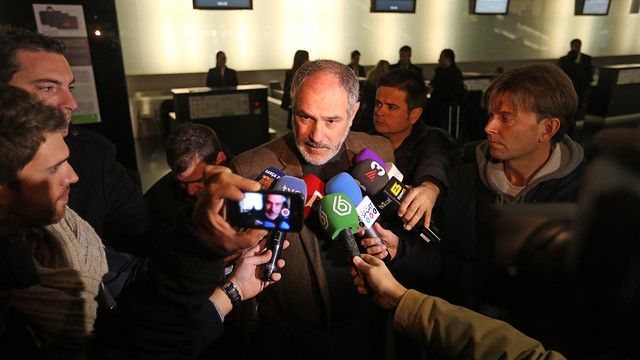 The sporting director of FC Barcelona stressed that, despite the precedents of being so equally matched against Atletico Madrid, each game throws up its own circumstances
Andoni Zubizarreta spoke to the media before taking the flight to Madrid. "Do we have a good chance? Without doubt! We'll leave the bookmakers to decide who are the favourites. We are going there knowing what we have to do. Our idea is to be at our best and on Wednesday night get back on the plane knowing that we are in the semi-final draw. It's obvious that Atletico Madrid have the same idea" the Barça Sporting Director said.
Although the precedents this season against Atletico have seen the teams so equally matched, Zubizarreta left the door open that we might see a different match: "Up to now there has been very little difference but each match throws up it's own circumstances and can be very unpredictable. A Champions League match is not the same as a Supercup game. We'll see what happens in this game".
Total support from the Board
Asked about his personal situation, Barça's sporting director focussed on the support received by the Board: "If we had all been in the meeting we'd know why the nuances between the members might be slightly different. For me, the most important thing is what Manel Arroyo said on Monday, and to have the full support of the Board, which is how I have always felt. Similarly, I also regret that my name was in the news on Monday, instead of focussing attention on the Referendum for the New Espai Barça, which really is a core element for the future of the Club".
Finally, with regard to Pinto's future, Zubizarreta said the following: "The conversations with Pinto have been very clear and there was transparency on both sides, and we all know what situation we find ourselves in. We have to carry on working, being aware that the football scenario can change almost every week".