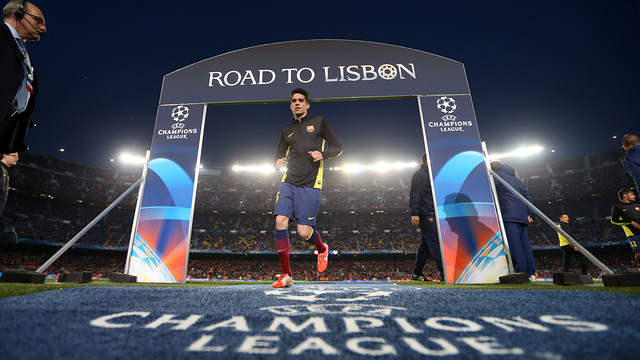 The Catalan has amassed 47 first team appearances, half of them this season, in which he has become a regular feature of the team
For what's left of the season, he is likely to play an even more important role in the centre of the FC Barcelona defence
Gerard Piqué has been added to the injury list this week, where he joins long-term absentees Víctor Valdés and Jonathan Dos Santos. With centre back Carles Puyol still not back into the regular training routine and Piqué out for four weeks, this is the moment for Marc Bartra to step forward and take on additional responsibilities.
The 23 year old is likely to feature prominently in the next few FC Barcelona matches. And these are no ordinary matches. The run-in to the end of the Liga season is going to be a close affair, with three teams still in contention. Not to mention the Spanish Cup Final against Real Madrid on April 16, and the second leg of the Champions League quarter final against Atlético Madrid on April 9, plus the semi-finals of the same competition should Barça qualify. It's a big challenge for Bartra, but in his 47 previous first team appearances he has already proven himself more than capable of delivering the goods.
Regular place
This is his second season as an officially registered first team member. So far this term, he has played 23 matches (15 in La Liga, 5 in the Spanish Cup and 3 in the Champions League). That already amounts to seven more than last season, and Gerardo Martino clearly values his centre back, for in 17 of those games he was in the starting line-up.
Shortly after scoring his second goal for the first team in the 4-1 win over Real Sociedad, Bartra was faced with a similar situation earlier this season. Mascherano was out for three weeks and Puyol was also recovering from injury, meaning he got to start four games in a row, and performed brilliantly.
Difficult journey
Bartra entered La Masia in 2002 at the tender age of 11. He climbed up the ranks from there and made his first team debut on February 14, 2010 against Atlético Madrid, when he was played at right back, a position he was unfamiliar with. He played five games the following season, and got his first goal, a header from a corner, in a game with Malaga.
In the 2011/12 season he only played twice, but it was enough to earn him a place in the first team squad the following year under Tito Vilanova, where he played 16 games and gradually settled into playing alongside the likes of Puyol, Piqué and Mascherano. In total he has played 47 games (27 in La Liga, 9 in the Spanish Cup and 10 in the Champions League). And he is sure to build on that tally, for his contract has recently been extended until 2017.