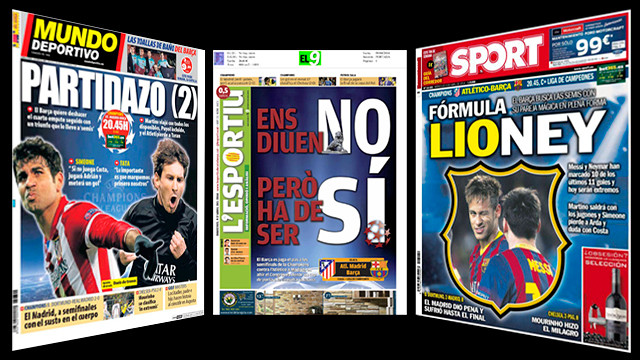 Local media agree the game is too close to call. "Clash of Styles" predicted, as Barça must aim to score
The Catalan sporting press reckon tonight's game is just too close to call, highlighting the different approaches the two sides will be taking and the need for Barça to score to get through.
"Only one way for Barça: attack!"
For El Mundo Deportivo, this is "The Final Tie-Breaker" Atlético Madrid and Barça have drawn all four of their games this season and they could well draw again tonight, but this time there will be a winner and a loser. Atlético, spurred on by their home supporters, will be looking for an epic performance fighting against the elements, but Barça can only take one road – that which they chose to be true to a while ago: pass and attack!".
"The teams know each other inside out"

Sport reckons the game is "A clash of Styles" , reporter Fernando Evangilio believes:"the two teams know each other inside out and they will both try and impose their own strengths on the game. But there's nothing between them at all. I imagine that Atletico will try and play a little higher up the pitch and press in more advanced areas than they did at the Camp Nou".
Atletico: "The best defence in Europe"

L'Esportiu headlines its front page "Now is the time to win" and goes on to explain that "Barça are virtually obliged to win tonight's game: only victory or more than a 2-2 draw will be enough. That high scoring draw might have seemed the more likely in the past, but it seems more difficult now given the way that Diego Simeone has turned his side into the best defenders in Europe"