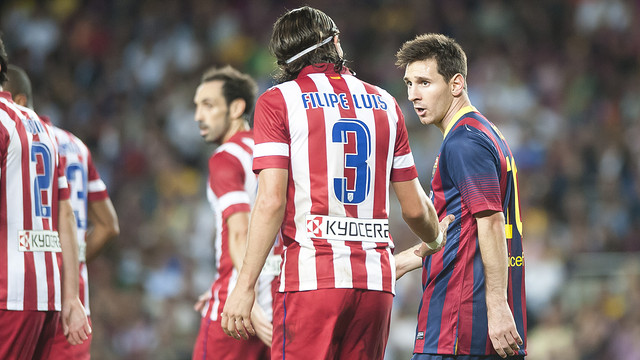 8:45 PM CET, La1 and TV3: Barça and Atlético Madrid face off in an exciting Champions League quarter-final tie
Valdés is Barça most important absence, while Raúl García, who is suspended, is Atlético's
Barça and Atlético Madrid, the two teams on the summit of Spanish football, will face off this evening for a spot in the semi-finals of the Champions League. The first game of the tie will be played at the Camp Nou. The teams come into the match on form and under the leadership of two key players: Leo Messi and Diego Costa. This season they've scored 36 and 33 goals, respectively.
What happened to Diego Costa?
This is why the alarm bells rang out in the Colchonero camp when Diego Costa retired from training 15 minutes after Monday's session had started. Was it a precaution? Is Costa injured? We'll get answers this evening.
In any event, the two teams base their play on the collective efforts of their players. Barça will approach the match with its tried and true attacking and possession style, while Atlético will be organised and vertical. The three prior games between the two teams – two in the Super Cup and one in the league – brought us three draws in which a total of two goals were scored.
Uncertainty
Martino's men come into the match with confidence, especially because of their two most recent victories at the Bernabéu (3-4) and at Cornellà (0-1). Despite the team's recent success, predicting Martino's starting line-up will be very difficult. Barça won't be able to call on Valdés, Dos Santos and Cuenca, all of whom are injured. In addition, Carles Puyol, who was named to the 22-man team, hasn't received medical clearance to play.
Atlético, on the other hand, come into the Champions League quarter-finals for the first time since 1997. Without a doubt, they are having a fantastic season seeing that they sit atop of a Liga – but Simeone wants more. He has the whole team at his disposition save Raúl García, who is suspended, and, of course, Diego Costa, whose fitness remains doubtful.