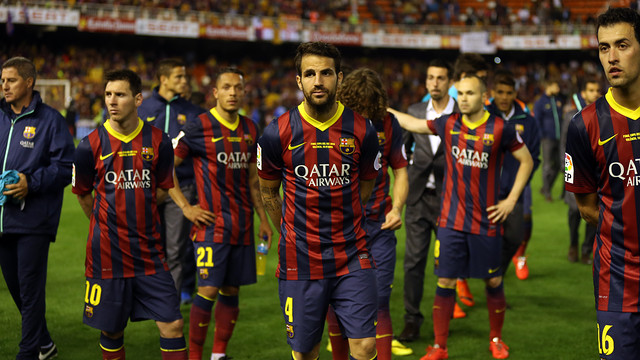 Gareth Bale's goal five minutes from the end clinched the Spanish Cup for Real Madrid
Neymar almost sent the game into extra time in the final minute, but his shot hit the post

The 2014 Spanish Cup goes to Real Madrid after goals from Di María and Bale at the start and end of the match tipped the balance in their favour in this evening's final. It was a cruel blow for FC Barcelona, who equalised with a Bartra in the second half. Barça are still the 'king of cups' with 26 titles, but this season the only major title they can still win is the domestic league.
Painful start
Things didn't get off to the best of starts for FC Barcelona in Valencia. Rather like the recent defeats at Atlético and Granada, they conceded an early goal. With their first meaningful attack in the 11th minute, Di María put the all-whites ahead, and Barça were once again playing catch-up. But they responded well, taking control of the possession, which until that point had been more or less equally divided.
With the ball at their feet, Barça tried everything, be it through the middle or down the wings. But Alves' crosses could never find the target and Iniesta and Alba's combinations were lapped up by a solid Real Madrid defence, who seemed quite content to hand the initiative over to the Catalans. Only a shot from Messi in the 41st minute managed to trouble Casillas. Time was passing quickly without an awful lot happening, and that was just the way Madrid wanted it to be.
Bartra levels
Both sides took a more direct approach after the break. Messi came close with a free kick and Bale had two fine chances from the edge of the area. And there was controversy too. The Barça players were fuming when Isco wasn't shown a second yellow card after a blatant handball, while Madrid were equally annoyed when they had a goal disallowed, apparently for a foul on Pinto.
It was mere moments after those incidents when Bartra beat Casillas with an unstoppably powerful header. It was all back level, and the Barça supporters burst back into song. The hope had returned.
Bale decides
Extra time was looming when Gareth Bale went on a dazzling run from inside his own half that he finished off by slotting the ball past Pinto. Like Madrid's first goal, it had come from nowhere, and Barça now faced a race against the clock to get back on even terms.
There was an air of desperation to Barça's football, but it came frustratingly close to producing the required result. Neymar found himself one-on-one with Casillas, but the Madrid keeper managed to touch the ball enough to send it onto the post, from where it rebounded into his hands. Such bad luck summed up Barça's night, and it was Real Madrid who ended the evening celebrating.