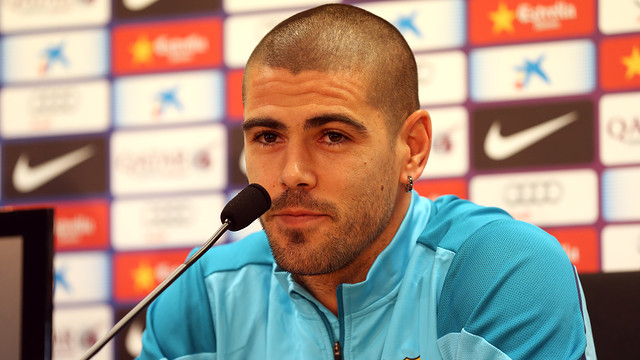 On the Champions League draw, the FC Barcelona keeper said that "when we've played them before, Atlético have already shown us how dangerous they can be"
He also spoke about how vital it is to get all three points from Sunday's trip to the Santiago Bernabéu
Last clásico at the Bernaneu?
Sunday may be the last chance Víctor Valdés will ever get to play at the Santiago Bernabéu in a Barça jersey. "I have fond memories of that stadium, and the atmosphere there" he said. "Hopefully I'll be able to say goodbye by celebrating three points there. My most cherished memory was the first time I ever played there. I was very young and had never experienced it before."
[[DES_1]]Shortly after it was revealed that FC Barcelona and Atlético Madrid will be meeting in the Champions League quarter finals, Víctor Valdés appeared in a press conference. "All the group winners qualified for the next round, so we always knew we'd have a difficult opponent, whoever it was" he said. After three Supercup and Liga meetings already this season, Barça already have a good idea what to expect. "When we're played against them, they have shown that are a tight unit that creates a lot of danger", said the FCB stopper.
However, he continued that "we have every chance of going through as along as we are able to play our game … you can see how Simeone has influenced the team. They make the most of dead ball situations, and it's defending against those that is precisely one of our weaker points. It's important that we don't let in any goals in the first leg at home, because that will improve our chances for the second leg".
[[CITA_1]]
Víctor Valdés also knows how important the trip to the Santiago Bernabéu on Sunday will be, a game that will have a massive bearing on the outcome of the championship race. "They are three important points, but they generally have been when we've played there" he said in response to the suggestion that there is particularly big pressure on the visitors this time round. "We have been working on defensive issues ahead of the game, but we should remember that there will be two teams on the pitch, and we have to avoid any mistakes at the Bernabéu, as we will pay a heavy price".
Like Iniesta in his own conference the day before, Valdés spoke about how "you need to be brave and confident when you play at the Bernabeu. We have learned how that is the best approach if you want to get a positive result there."
[[CITA_2]]
Valdés also took the opportunity to heap praise on his manager, Gerardo Martino, saying that "I very much identify with his work methods. It would be great news if he were to stay on at the Club, not just until the end of his contract, but for many more years after that."
It's important that we don't let in any goals in the first leg at home, because that will improve our chances for the second leg
I very much identify with Martino's work methods. It would be great news if he were to stay