Pedro reckons Barça will be at their best on Sunday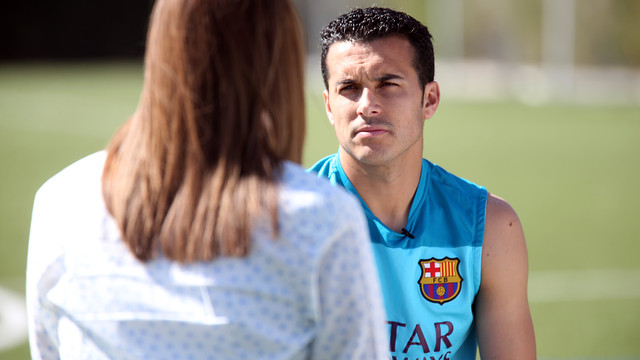 "In the big games, the team have played really well and at a high level.We are coming into the game in a good moment of form"
"You never forget your first goal against Madrid – especially if it's atteh Bernabeu" says Pedro, who opened his account against Real in the 2009/10 season.
"These team has a lot of years ahead of it"
Pedro also appealed to the Barça fans to trust in the current squad: "this team has a lot of years in it yet . There are some very good players who are still very young and there are plenty coming up behind them. We are doing things right and we are hoping for a season full of success. Pedro also put the team's current good form down to two key players: " "Messi and Iniestaare really on fire . they are two very important players for us".
[[DES_1]]In an interview with Barça TV and www.fcbarcelona.cat, Pedro Rodríguez admitted there was a lot of competition for a place in the starting line up, but inisisted he'd be doing his best to show Tato Martino he deserves a spot: " I'll fight and work hard for a place because these games are unique and you never want to miss them". Pedro has always accepted that he might not be a first choice starter in every game and he's come to accept that: "you have to be cool about it. It's a tough job for the boss because he's got 23 very good players and it's hard to choose just 11 to start a game. You just have to accept the decision. My aim is to give 100% whenever I'm called on to play".
Pedro's also upbeat about this weekend's trip to the Bernabeu and is certain we'll see Barça at their best: "the team is focussed, united and clear about what we have to do. In the big games, the team have played really well and at a high level". The Spanish winger also admitted that the big win over Osasuna was just what the side needed ahead of the big game: " it gives you a lot of confidence".[[CITA_1]]
The whole team is aware that a bad result on Sunday could seriously dent their league hopes and Pedro admitted: "it would make it tough to pull ourselves back into the title race, but we are coming into the game in a good moment of form and we know it's all to play for there. We all want to put in a great performance and keep our treble hopes alive".
Pedro also thinks that this Madrid team is better than the one that lost at the Camp Nou earlier in the season: "they might just be favourites because they are playing at home, but we know in this type of game there are never clear favourites at all – anything can happen. They have very quick players up front and they will be waiting for us to give the ball away so that they can hit us hard on the break. We have to be aware of their strengths and their style of play and use that to exploit our own strong points. Our idea is to move the ball quickly".[[CITA_2]]
In the 2009/10 season, Pedro scored his first goal against Real Madrid in the 0-2 win at the Bernabeu and he's now got five (2 in the League, 1 in the Cup, 1 in the Champions League and 1 in the Spanish Super Cup), but that first still has a special value for him: "you never forget the first time – especially if it's at the Bernabeu. I remember it really well – Xavi put in a long pass and I fired past Iker. Scoring against Madrid is always a big moment for any player".[[CITA_3]]
It's hard to get into the team and I always try and make the most of my opportunities. This has been a good season for me so far and I hope it'll turn out to have been a good one for the team as well". Finally, he again refused to let the competition for places get him down: "There's always a lot of competition for places, because we have the best players in the world up front".
In the big games, the team have played really well and at a high level
We have to be aware of their strengths and their style of play and use that to exploit our own strong points.
Scoring against Madrid is always a big moment for any player